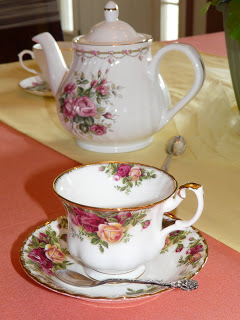 Do you ever long for a slower pace to your day?  A special moment to share and connect with the special ladies in your life?  If so, then maybe it is high time for you to host an Afternoon Tea.
Afternoon Tea is a delightful way to celebrate a special occasion or simply to enjoy the company of others.  Rich conversion over a cup of brewed tea, petite tea sandwiches and tea fancies for dessert . . . the elegance of fine china.  I'm already feeling relaxed.
Reasons to Have an Afternoon Tea:
Celebrate the birthday of a dear friend or relative
A special way to say thank you to someone
To get to know someone new from your church or neighborhood
A Bridal or Baby Shower
Because you are in desperate need of some fancy girl-time
Just because!
Where to Start:
Select your date, time and guest list.
Invite your guests (send invitations or ask in person)
Buy/borrow books or magazines about Afternoon Tea.  Here is a favorite that I have borrowed from my mother many times:  If Tea Cups Could Talk by Emilie Barnes
Gather tea accoutrements
Tea pot, tea cups, luncheon plates, serving dishes, cream and sugar, tea ball, tea strainer, demitasse spoons, napkins
Select your menu (We'll talk about the menu in Part Three)
Select your table décor
Select your tea music
Consider a favor for your guests
"But I don't have enough china or the right items." – – You can ask each lady to bring their own tea cup (or two).  Another option is to not worry about using china and use whatever you have.  Afternoon tea is about the heart, not about the dishes.   Also, I purposely didn't match the china at my tea.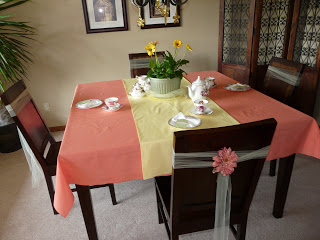 In the next post, I'll share what I did for the Spring Tea I hosted.
(Please note:  most product links in this series are my Amazon referral links and I will get a very small percentage of any sales using these links.  If you're uncomfortable with that, please go directly to Amazon or another source to find the product.  I am linking most of all to show the kinds of products you may need for your tea.)