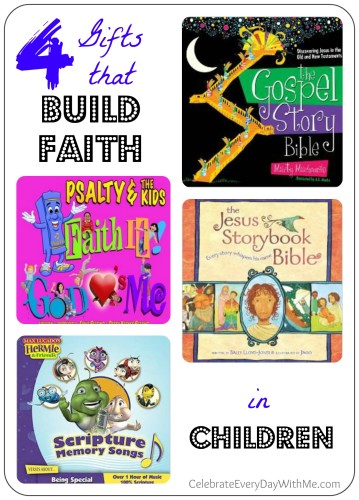 One of my favorite times of the day with my kids comes in the evening.  Just before their bedtime, my two sweet babies and I climb into my super tall bed.  (And when I say climb, I mean CLIMB.  My mom's guest room hosts a tall victorian 4-poster bed that even I can hardly get in.)
But that is just the beginning.  What takes place after that climb is heart-worthy, mind-training and soul-stretching.  We snuggle up together and turn through the pages of our Gospel Story Bible.  Some of our best theological discussions are started in these moments.  Questions are asked.  Thoughts are shared and hearts are taught … and not just the kids'.  It is precious time.
As a Christian mom, there are truths and values I want to teach my children while they are under my roof.  I want to inspire and build faith in their young hearts.  I want them to have a big picture of God and understand the cost of sin and the gift of grace and salvation in Jesus.  With that said, today I wanted to share with you some of our most favorite children's Bibles and Christian cd's.
Gifts that Build Faith in Children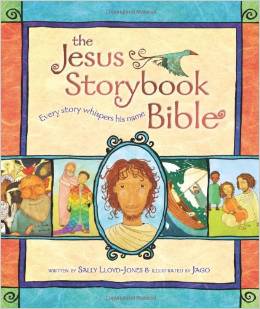 Jesus Storybook Bible:  Every Story Whispers His Name
This is the most beautiful Storybook Bible I have seen.  When I first read the introduction, my mind was filled with anticipation and my eyes were filled with tears.  Every Bible story recounted connects to Jesus and indeed "whispers His name."  The stories are beautifully told and point to the Savior.   Your kids (and you, too) will see an amazing connection to Jesus in every story read.  I love it!
Perfect for ages 4 and up.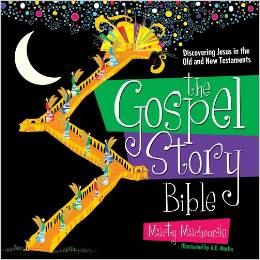 Gospel Story Bible:  Discovering Jesus in the Old & New Testaments
This Storybook Bible is incredible in the presentation of Biblical stories and connecting the Gospel throughout the Old and New Testaments.  The stories are told in more detail than the previous storybook, making this a good option for children 6 and beyond.
Each story includes a "Let's Talk About" section with three questions related to the story.  Themes of sin, grace, forgiveness and salvation permeate the book.  I feel it is providing a wonderful Gospel foundation for my kids (especially my son given his age.  My daughter at 5 loves the book but isn't quite able to answer the deeper questions yet).

Did you grow up with Psalty, the Singing Songbook?  I loved listening to Psalty's adventures with the children.  While my brother and I listened to Psalty on the (a'hem) record player, my kids now listen to his stories on CD as we drive to school and run errands around town.  I love how the songs stick with my kids even beyond the car.
Each album tells a story with challenges children face and teaches how to handle the situation from a Biblical perspective.  The music is fun, creative and filled with Scripture.  My kids are learning about praise, loving God and loving others.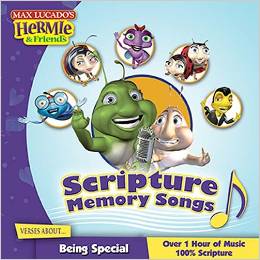 Scripture Memory Songs (Max Lucado's Hermie and Friends)
Learning Bible verses to music is a great way to remember Scripture verbatim.  There has been many a time I sing through a song in my head that I learned as a child in order to recall a full verse.
With Max Lucado's Hermie & Friends Scripture Memory Songs, you'll get straight Bible verses put to music, one verse after another.  Each CD contains a different theme of verses.  It is a great way to hide God's Word in their hearts even at a young age!
 What are your favorite tools, books or CD's for building faith in your children?  
Disclosure:  Some of the links in this post contain my affiliate link.  Please see my Disclosure Policy for more information.