If you've followed along with me, you probably know that I love any kind of party that has build-your-own–well, anything.  There was the deluxe hot dog bar, the campfire cones, the apple ring delights and of course perfect for this time of year, the hot chocolate bar.
Recently, at my nephew's birthday party, my sister-in-law set up a Make-Your-Own Fruit Pizza Party.  Oh yes!  It was delicious and of course, lots of fun for all ages.
She offered an amazing assortment of fruits ready to top an iced sugar cookie.  The icing was sweet, cream cheese-based and quite delicious.  In fact, my mouth is watering for one right now!
Here is what you'll need to host your own fruit pizza party.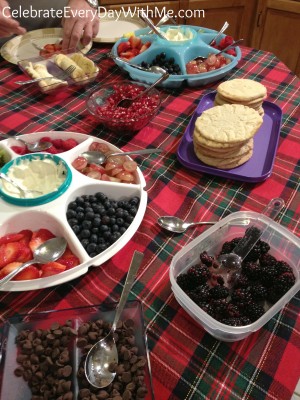 Fruit Pizza Ingredients:
refrigerated sugar cookie dough (I love my sister-in-law for keeping it simple!)
1 block of cream cheese
1/3 c sugar
1 t vanilla extract
assortment of sliced fruit
Directions:
1.  Bake your sugar cookies per directions on packaging.
3. Mix cream cheese, sugar and vanilla extract.
4. Spread the cream cheese icing on the cookie and layer the fruit.
* If you won't be eating the fruit right away, use the glaze from this recipe to coat the fruit.
And if you're wondering about the selection of fruit, here is what my sister-in-law served:  strawberries, pineapple, kiwi, raspberries, blueberries, blackberries, red grapes, bananas, pomegranates and chocolate morsels.  Yum!