Welcome to our first Entertaining Friday!  This is the place where you'll find great tips and ideas for entertaining, ways to plan fun events with less stress and mess, creative table decorations and all-around anything else that relates to entertaining.  I am so glad you are here!
Do you like to bake?  I enjoy making cakes, but I don't consider myself a baker.  When I have an event to bake for whether entertaining at home or taking a dessert out, I am always on the lookout for something fun, creative . . . and EASY.  My usual boxed brownies have needed a little reviving with something more creative and attractive.
For our first Entertaining Friday, I have a yummy summer recipe for your next event and a great resource that will have thinking in color.  
Now, let me tell you that I have seen those amazing cupcake books.  The ones that have the sweet animal face as the topper or other wildly creative (and labor intensive) decoration.  But let's face it, I know that I am not going to actually make that cupcake.  It is pretty to look it, but too much work for my busy schedule.
That is not the case, whatsoever, for this little baking gem of a cookbook!  As I breezed through Simply Sweet ColorCakes: Wow-Worthy Desserts Anyone Can Make, I was struck with the numerous ideas that are do-able.  Recipes that sometimes call for boxed cake mix (let me hear a woo hoo!) and even pre-made icing.  Yes, there are recipes that create a treat from scratch.  In fact, I am super excited to try all the different frostings, some with interesting ingredients I would have never thought to add.  Whether the recipe has some secret flavoring or not, each has an awesome burst of color.
 A great cookbook addition for your entertaining!
After seeing this book and its creativity, I am struck with how simple it is to make COLORCAKES.  At the top of the post, you can see the Watermelon Cupcakes I made for Memorial Day.   They were delicious, easy and fun to make.  Did I mention they tasted like watermelon?
The kind folks behind  ColorCakes have allowed me to share the recipe. These Watermelon Cupcakes are perfect for your summer entertaining!  And I'm showing you the original photo from the book below not just because it is a gorgeous shot, but to show you that the actual product is possible to reproduce.  (I didn't add the height of icing, but they still came out beautifully and the green cake is behind my cupcake wrappers!)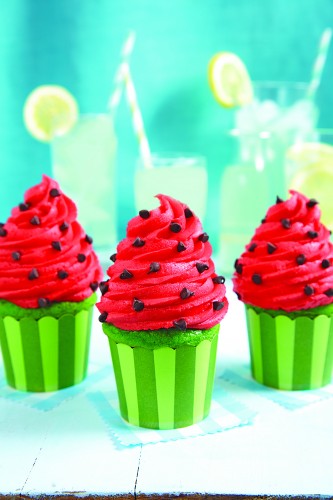 Watermelon  Cupcakes  – Printable Version
Makes 24 cupcakes Hands-On Time: 30 min. Total Time: 1 hour, 40 min.
Paper baking cups
1 (18.25-oz.) package vanilla cake mix
Water, vegetable oil, and eggs called for on cake mix box
1⁄2 tsp. green food coloring paste
1 cup butter, softened
1 (32-oz.) bag powdered sugar
3 Tbsp. watermelon-flavored gelatin (from 3-oz. box)
1⁄3 cup milk
11⁄2 tsp. red food coloring paste
Large disposable decorating bag
1⁄4 cup miniature semisweet chocolate morsels
1. Preheat oven to 350°. Place paper baking cups  in 2 (12-cup) muffin pans.
2. Prepare cake mix according to package directions  for cupcakes, using water, oil, and eggs and adding green food coloring. Cool in pans on wire racks 10 minutes; remove from pans to wire racks. Cool completely (about 30 minutes).
3. In large bowl, beat butter and half of powdered sugar at medium speed with an electric mixer until smooth. Beat in gelatin (dry) until blended. Gradually add remaining powdered sugar alternately with milk, beating until frosting is smooth and spreadable. Beat  in red food coloring.
4. Insert a large star tip into decorating bag; fill with frosting. Pipe frosting onto cupcakes. Decorate with chocolate morsels to look like watermelon seeds.
This book is a perfect cookbook addition to your shelf.  It will provide you will oodles of ideas for your next entertaining event.  I am already scouting out my next colorcake treat.
 More about the book:  
"Featuring over 125 colorful cakes, cookies, ice cream treats, cupcakes and more, readers will find inspiration on every page of ColorCakes. With a photo for every recipe, there are cute and clever treats perfect for every occasion from snack-time to party-time. The cookbook guides bakers through every step with "Simply Smart" secrets for making the recipes even easier and "Color Wow!" tips on how to take your treat to the next level, as well as how-tos for creating eye-popping designs and cutouts for your creations. Best of all, most of the recipes can be made in under an hour and some in just 15 minutes! Whether you have an afternoon or a few minutes to whip up something, there's a show-stopping dessert for you."
Disclosure:  I was provided this book at no cost in exchange for an honest review.  All opinions are my own.  This post contains my affiliate links.  
Amazon is currently selling ColorCakes for $13.83 (an awesome price!!) and is eligible for free shipping with Prime or on orders over $35.  If you want to sign up for a free month of, click here.
Next Week on Entertaining Fridays:  We'll look at a new and popular trend for utensils and how you can customize for your next party.