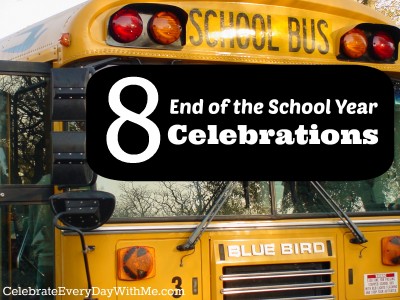 School has ended!  I love the fact that we are not rushing off anywhere this morning.  The lazy days of summer have started.  And I am definitely celebrating!
Here is a little round-up of some of my favorite ways to celebrate the end of the school year and beginning of summer!  Be sure to pin these for next year.
 1.  Happy Summer Vacation Cake!  
What is a celebration without cake?  This is our annual tradition (from my childhood as well).  While my kids do have to share, they are allowed to take first bites with their face.  Unfortunately, our cake also had a little mishap this year.  Sweet Boy was trying to take a bite from the side, tipping it and . . . you guessed it!  The cake landed upside down on the table.  After some disappointment, we all had a good laugh at the fork imprint on the top.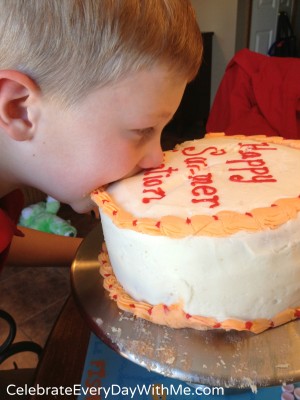 2.  Chalk Hearts
Ali celebrates with Chalk Hearts all the way from the Bus Stop to her garage.  I love this precious idea!
3.  Summer Yard Fun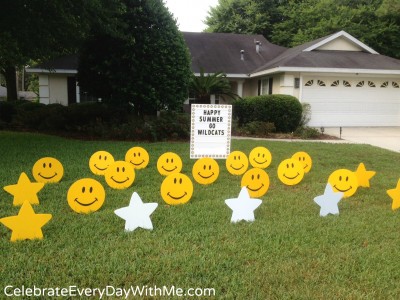 Melanie welcomed her boys home from school with a yard of smiles and stars!
Ali's family and her neighbors gather at the bus stop for a fun continental breakfast before the bus arrives.
5.  Last Day of School Photo
A must in so many houses.  My Sweet Boy is going to be a kindergartner!
While this sweet poem from Little Miss Kindergarten is for kids finishing up kindergarten, you could recreate the idea for every grade.  Download a free copy from her website.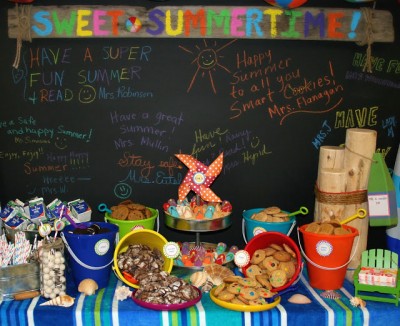 I looove this party from Vicki at Laugh Loud Smile Big as she celebrated with the entire school.
 8. Break Through into Summer Banner
This was so simple but my kids loved breaking through.  Easy & fun!
top photo credit:  lynette