This shop has been compensated by Collective Bias, Inc. and its advertiser.  All opinions are mine alone. #PureLife40pk #CollectiveBias
With spring's arrival, I am beyond eager to get outside and enjoy the new season.  Blooming flowers, warmer temperatures . . . and no more snow.  What better way to celebrate than to throw a spring picnic party!  Today, I am sharing fun ideas for hosting your own spring picnic.
For this party, we'll be keeping it easy and economical without forfeiting a pretty presentation.  Each guest will receive their own picnic box with everything they need inside, topped with a bottle of Nestlé® Pure Life® Water.  It's all ready to go.  Let's take a look!
How to Throw a Spring Picnic Party
1. Choose an Easy Menu
There are times when I want to make everything on my party menu.  But then in the midst of my chaotic kitchen and racing heartbeat over cooking failures, I am reminded that is perfectly okay to purchase pre-made food.  There are many things to consider when entertaining; preparing a difficult menu should not be one of them.
For this picnic party, I kept things very simple.  My menu included chicken salad with crackers, clementines, sliced bell pepper, kettle corn, cookies and a bottle of Nestlé Pure Life Water.  I made nothing from scratch and it all tasted fabulous.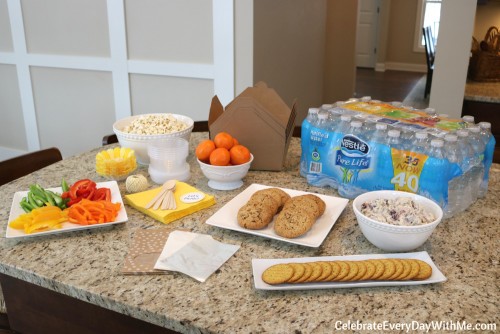 2. Be Economical by Buying in Bulk
One thing I love doing for parties (and everyday life as well) is buying in bulk to save money.  Whether it is for produce, meat, paper products or bottles of water, we regularly purchase items in large quantities.
For example, my family drinks a lot of water.  Whether we are toting bottles to ballet or basketball, having a meal on the go or keeping a bottle on the nightstand, Sam's Club is the place from which we buy all our cases of water and it has been that way for years.  Staying hydrated is important to my family.  As the weather gets nicer and we are more active outdoors, Dan and I will be sure that our entire family is getting plenty of water.
If you shop at Sam's Club, don't miss the great value with Nestlé Pure Life Water.  They added 5 more bottles for the same price as the 35 pack!  The water is pure, great tasting and filtered through a 12-step quality process. Did you know that Nestlé Pure Life Water is enhanced with a unique blend of  minerals to ensure great taste?  We love it.
For my spring picnic party, not only did I pick up a case of Nestlé Pure Life Water, but I also purchased many other items in bulk to divvy up into the picnic boxes in order to be more economical.
3. Give it a Pretty Presentation
Even though we are keeping things simple, there is no need to give up a cute presentation.  For this picnic party, I used an assortment of containers to package up the meal.  From carry-out picnic boxes and food containers to wooden spoons and an assortment of treat bags, this meal is ready for my guests to pick up and go.  And it looks great!
Here is how I packaged the food inside the box: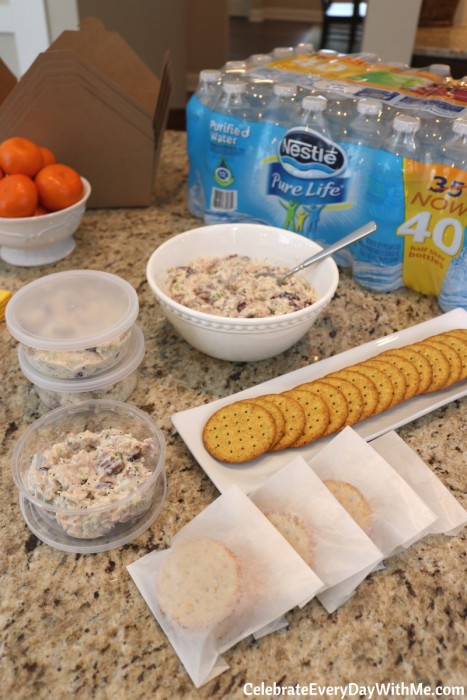 Yummy chicken salad in plastic containers and round garden crackers in small glassine bags.
Colorful bell peppers in clear favor bags, tied with baker's twine.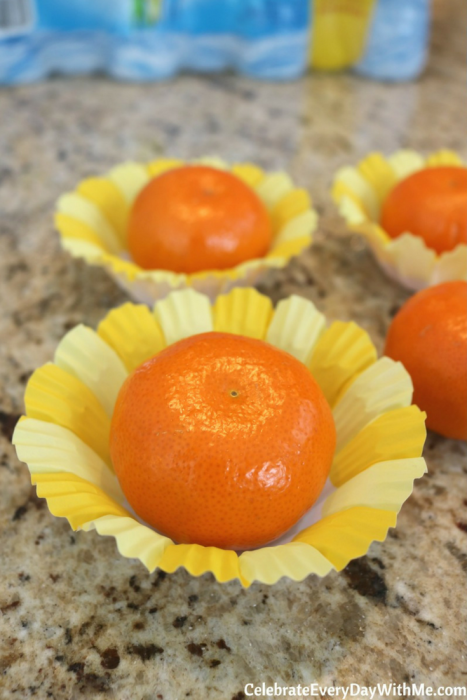 Clementines placed in flower-baking cups.  Doesn't it give a fun, spring look?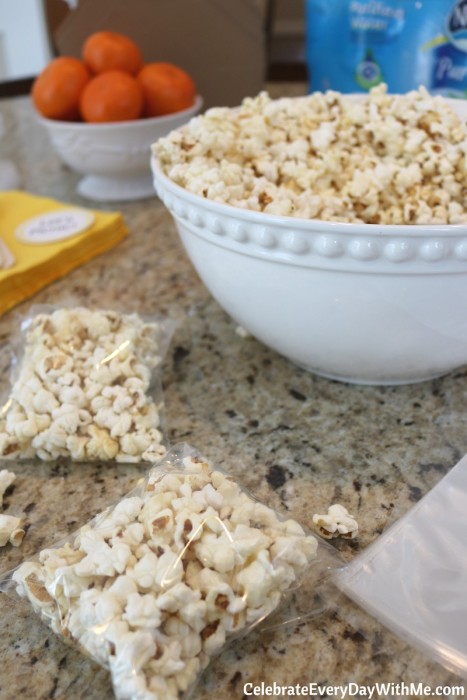 Kettle corn in a clear favor bags.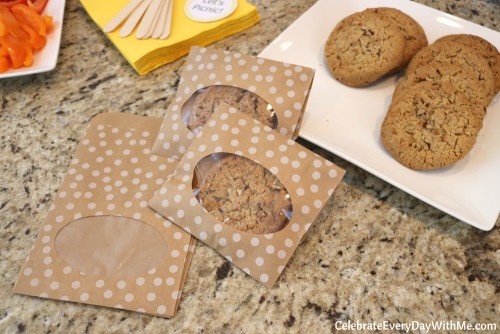 Coconut-pecan cookies in polka-dotted treat bags.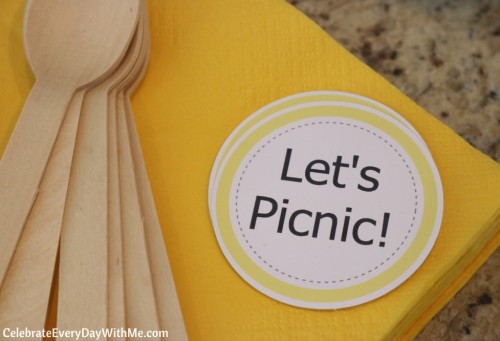 Yellow napkins in keeping with my spring colors and wooden spoons, along with a sticker for the outside of the box.  (Grab the printable below.)
The brown box alone was a little dull, so I used tissue paper to line the inside of the box.  White tissue paper gives it a clean, fresh look and it is an inexpensive option.  (Just cut two pieces to fit the length and width of the box, and fold the paper over to give the top a crisp edge.)
Now for the outside of the picnic box: 
I like the idea of untying . . . well, just about anything.
When you have to untie or unwrap items you're about to eat, it creates the feeling of something special, making this ordinary picnic box feel like a gift.  I used yellow and white baker's twine to tie up our boxes.
I tied a half knot around the box, then placed a bottle of water on top.  With the water in place, I finished by tying a bow (keeping it easy for my guests to untie).
The Nestlé Pure Life Water bottle has the perfect ridge under the label for tying the twine around the bottle.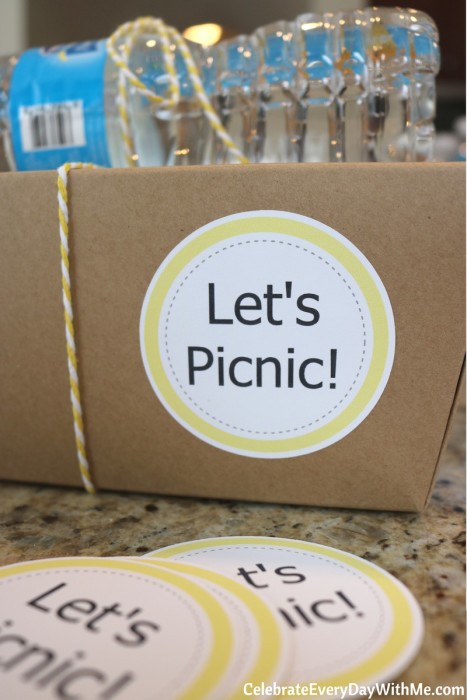 Of course, I needed to add a little more picnic inspiration.  I created these cute "Let's Picnic" stickers and put them on the side of the picnic box.  Download the printable here. (Print it on sticker paper and cut out.  If you would like the SVG file, please email me.)
Are you ready to picnic?
A delightful party to celebrate spring!
Here is where to find Nestlé Pure Life Water at Sam's Club.  (Available in select Sam's Club stores, ask your Club Manager about getting Nestlé Pure Life Water in your store if it's unavailable.)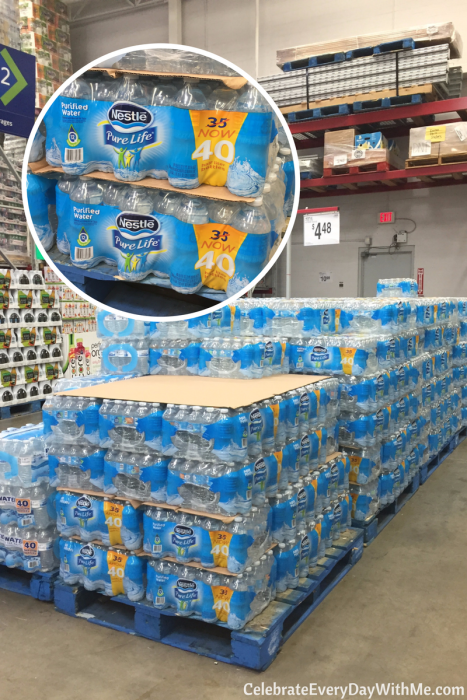 The good weather is here.  It's time to get outside, stay hydrated and celebrate spring!
For more information on Nestlé Pure Life Water at Sam's Club, click here or connect with Nestlé Pure Life Water on Facebook or Instagram.