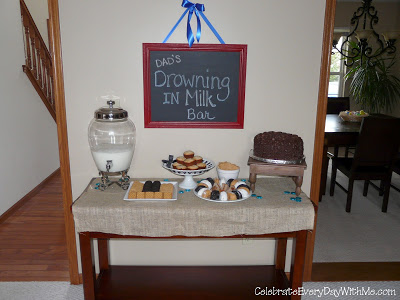 My husband's family is a little quirky with their desserts.  You know how some people dunk their donuts, others dip oreos and graham crackers in milk . . . well, Dan and his family drown their desserts in milk.  They just don't eat a piece of cake.  They put it in a bowl and cover it with milk.
So when we were hosting a party for my father-in-law's birthday this past Sunday, it only seemed fitting that we serve dessert in his tradition.
Enter the
"Drowning in Milk" Bar
!  A table of
Chocolate Cake
(minus the drizzled chocolate liqueur – we had kids at the party), Donuts, Blueberry Muffins, Peanut Butter and Jelly Sandwiches (apparently the die-hards do this), Graham Crackers, Oreos, Nutter Butters, the family-favorite Lorna Dunes . . . and of course, gallons of milk.

This chocolate cake was amazing and so decadent!  Go to Art of Desserts for the recipe.
The Takeaway:  Are you throwing a birthday party?  What does your guest of honor love that you can "exploit" into a fun dessert table?

You May Also Be Interested in this fun theme for a family party.  I loved how it all came together.