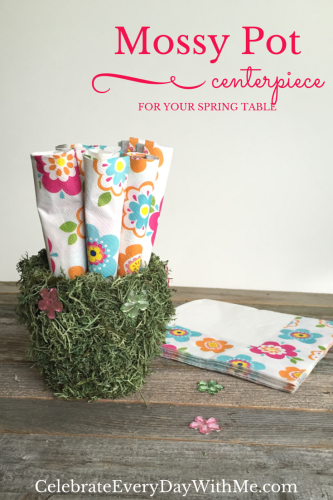 Spring is coming or at least I am telling myself that over and over again.  I love the variety of decorations that can go on a Spring table setting.
Today, we're making a mossy pot centerpiece.  The number of uses for this pot are endless.  I used it as a napkin holder but you could do so much more.  Turn it upside down and top it with a glass plate and serve pretty pastries.  Add a styrofoam cone or ball and glue pastel M&M's or other candy. . . yes, endless.
And I love that this little craft can be done very inexpensively.  Other than my glue gun and Mod Podge, all of the items came from the Dollar Tree.  Hooray for saving some dough!
What you'll need to make your Mossy Pot Centerpiece:
Terracotta Pot (mine was 5″ tall)
Reindeer Moss
Flower Gems, if desired
Scissors
Small Box or Bowl
Mod Podge, Bowl & Foam Applicator
Hot Glue Gun
Instructions: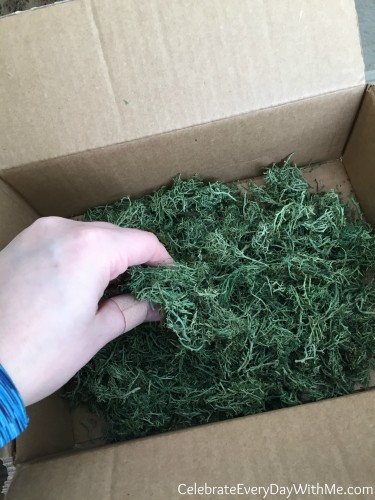 1.  Pour your reindeer moss into your box or bowl.  Break it up as much as possible.
2.  Cover your pot with Mod Podge.  I worked in sections.  You will need the glue to be pretty thick.
Incidentally, when I am working with large amounts of glue, I always use our Kiwi Crate bowl.  When it dries, I can simply peel the glue out in one piece.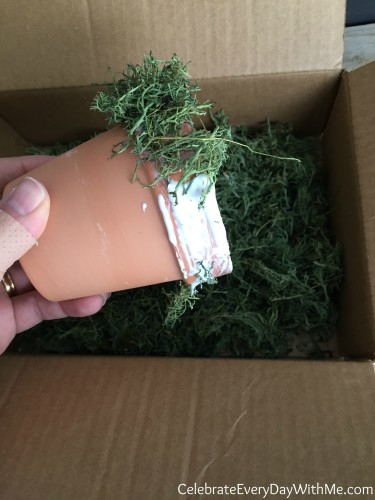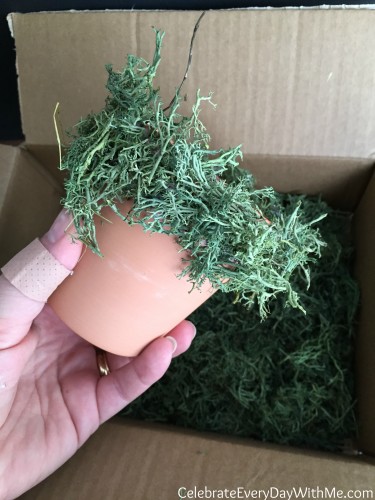 3.  Roll your pot in the moss or apply by hand.  I did both.
4.  Repeat until the entire pot is covered.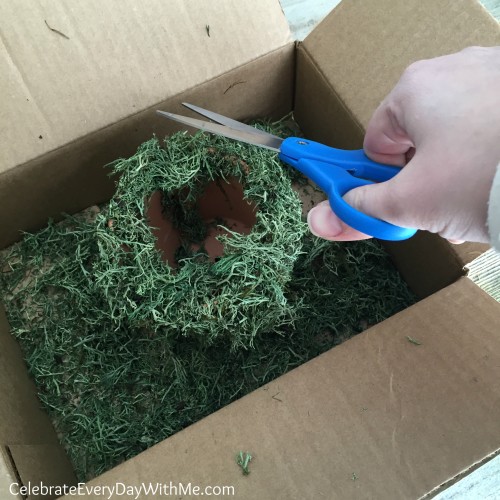 5.  Allow to dry and then with your scissors, give your mossy pot a hair cut.
6.  Reapply glue and moss to spots of terracotta that are still exposed.
5.  Press down on the moss by cupping the pot in your hands.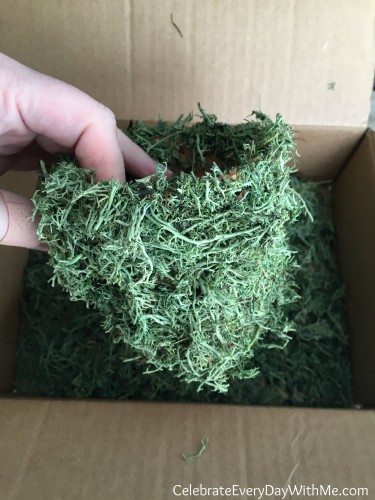 8.  Dry and give the pot another hair cut.  Trim the extras and long pieces.
9.  If you are adding any embellishments to your mossy pot centerpiece, do so with hot glue.  If you're keeping it natural, you're all done.
How will you use your mossy pot centerpiece?
Next week, I'll be showing you a cloth napkin fold that you can use with the mossy pot.  But instead of just one pot, you'll need multiples  . . . one for each place setting/guest.