This shop has been compensated by Collective Bias, Inc. and its advertiser.
All opinions are mine alone.  #PourMoreFun #CollectiveBias
Here comes a fun DIY drink station, perfect for your next party or casual gathering.  It is colorful.  It is kid-friendly.  And it is delicious!  Made with Kool-Aid Easy Mix and little preparation, this do-it-yourself drink bar will be a fun treat for your family and friends.  Your guests will enjoy creating fantastic combinations of flavors, drinks and fresh fruit drop-ins.  It is a refreshing way to celebrate Spring!
The drink station is very simple to put together.  Kool-Aid Easy Mix comes in three flavors:  Cherry, Tropical Punch and Grape.  I wanted to have all three for my family and friends to try.  The mixes are very inexpensive (only $2.78 at Walmart) and I was pumped at how simple they were to use.  They are liquid and the bottle gives measurements for a single glass or a pitcher.  (It makes 6 quarts or 3 pitchers)  Easy, right?  And perfect for my drink station!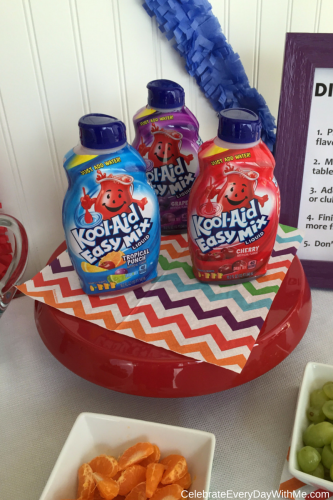 I also picked up Sparkling Mineral Water, Club Soda and assorted fresh fruit (strawberries, grapes, raspberries, blueberries and clementines).  For those who don't want the fizz of sparkling water or club soda, I included regular ice water on the table too.  Be sure to chill your sparkling water and club soda before your friends arrive.
Don't miss my favorite combination below!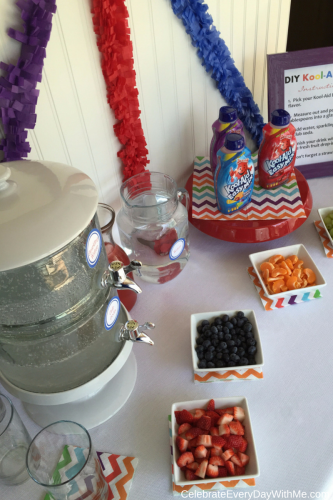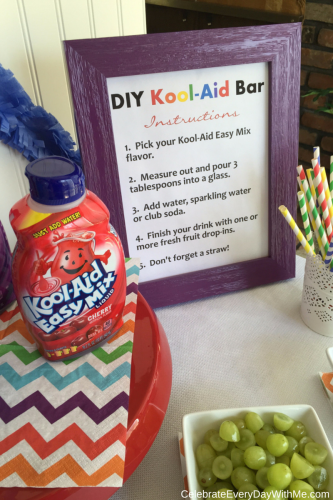 Instructions for your DIY Kool-Aid Easy Mix Bar:
1.  Pick your Kool-Aid Easy Mix flavor.
2.  Measure out and pour 3 tablespoons into a glass.
The Kool-Aid Easy Mix directions call for 1.5 tablespoons for 8 ounces of water.  Because my glasses were tall, I instructed friends to pour 3 tablespoons in their glass.
3.  Add water, sparkling water or club soda.  
I had pre-measured to see what 16 ounces looked like in my glasses.  This way I could help others.
4.  Finish your drink with one or more fresh fruit drop-ins.  
I loved the way the fruit looked in the drinks!
5.  Don't forget a straw!
I can never resist colorful striped straws.  
My Favorite Kool-Aid Easy Mix Drink Recipe:
3 Tablespoons of Cherry Kool-Aid Easy Mix
Approximately 16 ounces of chilled Sparkling Mineral Water
Blueberries and Raspberries 
This DIY Kool-Aid Easy Mix bar will treat your family and friends to a splash of color, a burst of flavor and a little creativity.  Not to mention, it will leave you looking forward to your next gathering!
What do you think would be your favorite combo?  
Be sure to check out more delicious recipes from Walmart and Kraft. I'd love to hear your favorite!
And, if you would like to see Kool-Aid Easy Mix in action, click this link to find a Walmart demo near you:  Kraft Kool-Aid Easy Mix Demos.