I love lemon.  I love the clean, fresh scent, the delicious taste and the happy yellow color.  What's more, I love PEEPS!  Their marshmallowy goodness with a coat of sugar.  Mmmm.
Add a little angel food cake, vanilla wafer cookies for crunch and light, fluffy cool whip and you have just created a delicious trifle sure to delight your family.  Whether you're celebrating Spring, hosting dinner this Sunday or just looking for an "Oh Happy Day" treat, this is it!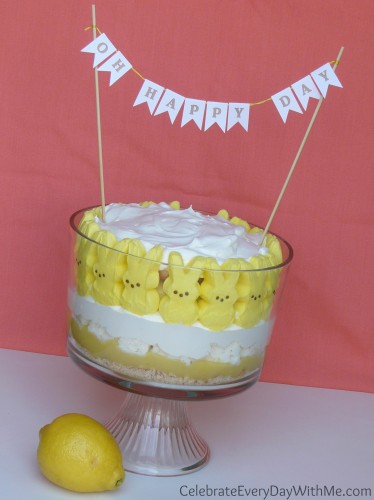 Ingredients for Lemon Trifle with PEEPS:
Yellow Bunny PEEPS (I used 16)
Angel Food Cake
Vanilla Wafer Cookies (about half a box, crushed)
Cool Whip – 16 oz
Lemon Filling
Lemon Filling Ingredients:
 2 Cups Water
2 Cups Sugar
1/2 Cup Corn Starch
2 Tablespoons Butter
6 Egg Yolks
Rind of 2 Lemons
1/2 Cup Lemon Juice

Directions:
1.  Make a batch of Lemon Filling
Bring water to boil in a medium saucepan.  Slowly mix in sugar and cornstarch with a whisk.  Stir until mixture becomes clear, thick and begins to bubble.  Reduce heat to medium.
Add butter, egg yolks, lemon rind and juice.  Continue to heat 3-4 more minutes to ensure eggs are cooked.
Let cool completely.
2.  Layer your crushed vanilla cookies, followed by lemon filling, angel food cake and cool whip.  Take care to notice the height of your peeps, so that they are sitting on the first layer of cool whip.
3.  Add your peeps to the perimeter of your dish and continue filling with your ingredients.
Share and enjoy!

Looking for more ideas?  Check out PEEP's website, www.marshmallowpeeps.com, to see fun ways their fans use PEEPS® in recipes, crafts and artwork sharing their own #peepsonality!
And if you'd like to know how many PEEPS it takes to reach the top of the Sears Tower, you have to check out this fun infographic:  PEEPS Infographic.  It is very interesting!
Disclosure:  I received PEEPS products at no cost to myself.  However, all opinions are my own.  Please see my Disclosure Policy on the About Page for more information.
 You May Also Like: