This shop has been compensated by Collective Bias, Inc. and its advertiser. All opinions are mine alone. #EffortlessPies #CollectiveBias
Before I became a Wedding Planner, I worked as a Banquet Manager.  Aside from the pleasure of meeting and working with wonderful clients and throwing fantastic events, I loved having a staff.
When I needed a room transformed, the staff was there.  When we had a delicious meal to plate, the staff was there.  When it was time for clean up, the staff was there.
Now, I am a staff of one.
Okay, my kids and husband do help quite a bit.  But gone are the days when I had several people working in the kitchen and a line of servers on the floor.  So when I entertain at home, I am always on the lookout for ways to make things easier, especially in the kitchen.
And this effortless pie recipe does just that!  It will simplify your spring and summer entertaining without sacrificing great taste and a pretty presentation.  Plus, it's on the healthier side since we're using Greek yogurt instead of a sugary filling.
Grab a tray and serve this delicious dessert to your guests.  They will never know how easy it was to make and you'll love how quick it is to clean up.  Take a look!
How to Make these Easy Mini Pies:

I stopped at Walmart and picked up my ingredients.  Don't you love it when your grocery list is short?
You Will Need:
Keebler® Ready Crust® Mini Graham Cracker Pie Crust (6-count)
Dannon® Light & Fit® Strawberry Cheesecake Greek Yogurt
Sliced Strawberries
Reddi-wip®
Shavings of White Chocolate
Entertaining Tip:  Select recipes that allow for much of the prep work to be done in advance.  This way, you can focus more on your guests and being a hospitable host.
Prepare In Advance:
First, slice the strawberries into flat pieces.
Then, shave a white chocolate bar using a vegetable peeler.
To get the chocolate spiral, "peel" down the long side of the bar, using the full length of the blade.  (Start at one end of the blade at the top of the chocolate and by the time you get to the end, you will want to be at the opposite end of the blade.)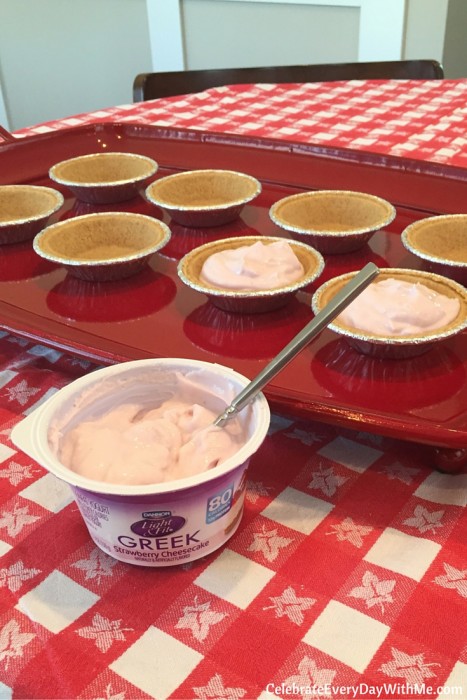 Fill the Keebler® Ready Crust® Mini Graham Cracker Pie Crusts with the Dannon® Greek Yogurt.  Mmm, I love strawberry cheesecake!
Then arrange your strawberry slices on top of the yogurt.
Tip:  Arrange the strawberries so the outer edges of the berry are near the rim of the crust.  This way when you put your whipping cream on later, the beautiful side of the strawberry will be showing, giving your treat an extra pop of color.
Refrigerate until later.
Just Before Serving:
Pull your pies out of the fridge and swirl Reddi-wip® on the pie.
Garnish with the white chocolate shavings.
Serve the mini pies on a cute tray and enjoy!
We had leftover ingredients which meant over the next several days, my family enjoyed these mini pies again and again.  They are so easy and fun to make that the kids can hop in and help, as well.
Going . . .
. . . going . . .
. . . gone!
It's the perfect dessert for a host who wants something simple yet delicious.  After all, it's as easy as pie!
Here is where I found the main ingredients:
What do you think of my easy mini pies?  Do you have a simple dessert that you love to serve?
For more effortless pie inspiration, go here or click to unlock an Ibotta rebate.