Welcome to Entertaining Fridays!  This week, we are talking about creative seating for your guests.
Heidi wrote in with this question:  "I could really use some ideas for creative seating! We don't have any tables that seat enough people and I hate having to split people into different rooms!  Also seating ideas for outside…"
We have all dealt with this issue at one time or another.  We invite a large number of people and then struggle to figure out how we are going to fit them in the space, let alone provide a seat at which to eat.  And contrary to our frantic, desperate moments, the answer is not necessarily to move to a bigger house.
Let's get creative!
1.  Supplement your Existing Tables with Folding Tables.
We have built our stash of tables (including square, 6-foot and 8-foot) by shopping deals, garage sales and church sales.
For the square tables that we bought at Wal-Mart, 4 folding [padded] chairs came with each table.   The 6 & 8-foot tables from garage sales and a local church sale were $10 or less because they were used.  I didn't mind the wear because I cover them up anyway.
Dan has a secret dream of selling all our large tables and buying the light-weight kind.  (Our tables are pretty much too heavy for me to carry.)  But the light ones are very expensive, so that is for the future.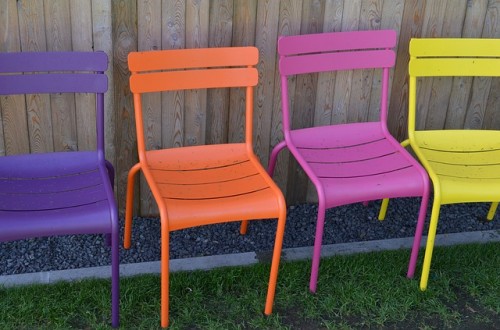 2.  Pick up Wood Chairs at Garage Sales and Spray Paint.
I LOVE going to garage sales.  I am always seeing wood chairs for sale, often at terrific prices.
Grab an assortment of chairs and spray paint them all the same color if you lean towards uniformity.  If you are game for some fun, go eclectic and accent their differences.  You can even distress them and give them the aged look by using Annie Sloan Chalk Paint (my new bff).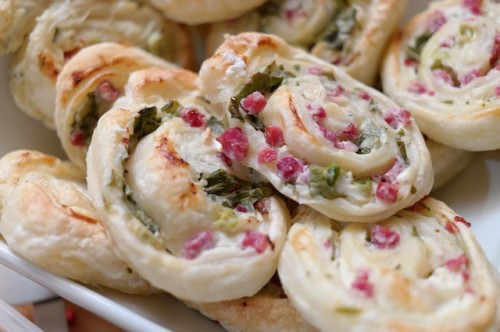 3.  Skip the Formal Meal and Serve Heavy Hors d'oeuvres.  
If you absolutely can not seat your guests, think about skipping the place settings at tables and shift your menu to a great selection of heavy hors d'oeuvres.
This allows your guests to lose the need to sit at a table while they eat.  Make sure to select a menu that provides for plenty of food and variety, including choices that are filling.  You don't want your guests to go hungry.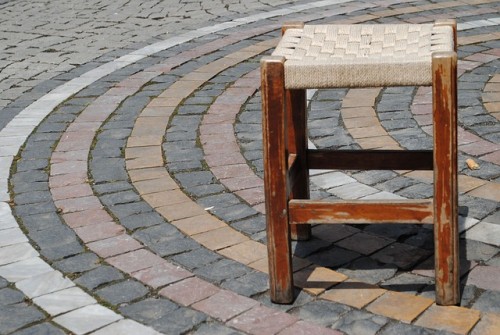 4.  Do a Walk-Through and Pull From What You Have.
Whether you are simply providing more seating around the room for guests to sit and munch or you are needing chairs at additional tables, walk through your house and look for ideas.
Do you have a piano bench, stools, an ottoman or strong crates that can be stacked and topped with a pillow?  Do you have a chair in the office or a vanity stool in the bathroom?  Is there an outside bench that can be cleaned and brought inside?
If you shy away from these types of seats because you like it all to look pretty, just remember that creating a fun atmosphere of being together sharing a meal is more important than a perfect table.  Just be sure that your guests have the opportunity to occupy the most comfortable seats before you and your family sit down.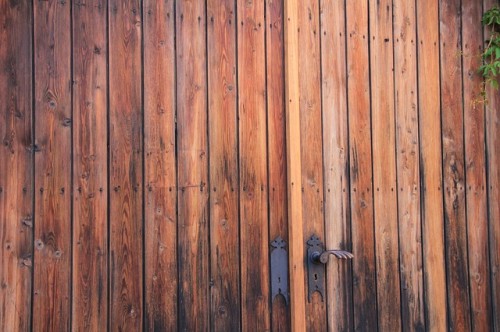 5.  Transform an Old Door into a Table.
I was at the salvage shop last month and saw many old doors.  If you are handy or know someone who is, you could add 4 legs and have a new table for your collection.
Simple flat doors are obviously the most suited to a tabletop.  Avoid doors with grooves and uneven surfaces . . . unless your handy man can add a layer of thin wood to the top.
6.  Make Use of TV Trays.  
I am usually not a fan of TV trays.  But I recently saw a pair of wood ones on a local Facebook selling group for $5.00.  Now, I am kicking myself for not buying them.  They would have looked so cute with a coat of paint and fun stenciled pattern on top!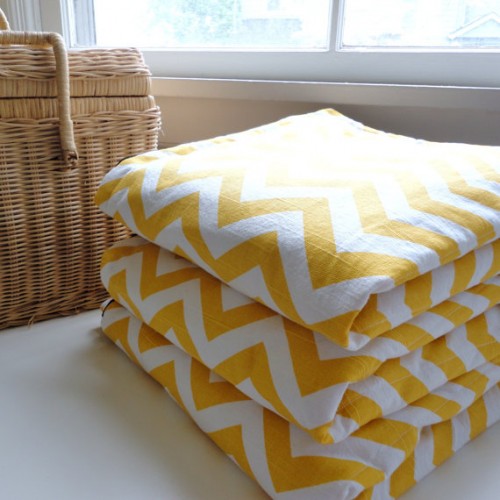 7.  Go Picnic Style for Outdoor Entertaining.
Gather a bunch of blankets, roll them and place a large basket and encourage your guests to go picnic-style.  Put all the blankets together or scatter little clusters on the lawn.  If you're looking for a great picnic menu, check out this Picnic party – it was one of my favorite party themes!
Special thanks to Modern Cabin on Etsy for use of the above photo.  Aren't these waterproof picnic blankets adorable?  I'd love to enjoy a casual dinner party with these chevron blankets!  L.O.V.E.)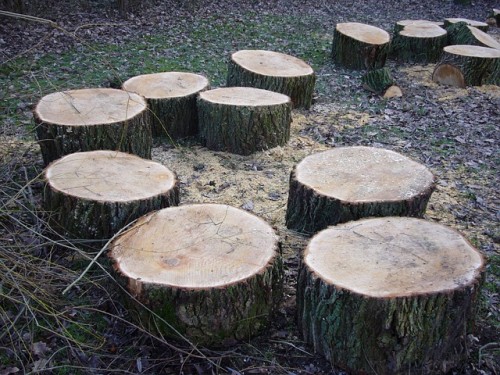 8.  Go Rustic for Outdoor Seating.
If you are throwing a casual get-together, don't be afraid to grab your camping chairs and tree stumps for people to sit on.
9.  When Possible, Design Seating into your Outdoor Spaces.
When we rebuilt our deck, we added a stamped concrete pad.  I could have put it level with the deck, but there was one very important reason I chose to have it elevated.  And no, it wasn't so my kids could pretend it was a stage.  
I elevated the concrete pad to the height of a step so that guests could sit on the edge.  It provided instant seating and has been used many times when we have a full deck.
Is there a spot in your outdoor design that allows for step-seating?  Can you build a bench into the side of your deck railing?  If you are in the design [or redesign] stage, this is a perfect opportunity to add additional seating in your outdoor spaces.
 What ideas would you add for creative seating?  
>Join us next Friday for a simple summer napkin fold for your table.  And if you missed last week, here is my crazy but awesome gardening hack!