Do you ever pour through Pinterest in search of an extra little treat for your upcoming party?  Something that can fit into your color scheme?  This may be just the thing you are looking for!  It is as easy as changing the color of the sugar to suit your theme.
At our recent Wizard of Oz party, I made these chocolate and sugar-covered grapes.  All of my treats were named to fit into our theme.  These sweet things were called "Ruby Red Drops," after Dorothy's ruby slippers.
I used Bada Bing Bada Boom Dipping and Coating Milk and Red Sanding Sugar from Chocoley.
Chocoley sent detailed instructions on how to use their products.  It was so helpful to know the right way to do everything.  They tell you the temperature of the water, the temperature to heat the chocolate to and even to let it cool slightly before dipping.  I may have looked like a mad scientist to my family, but I felt like a chocolatier dancing my way around the kitchen.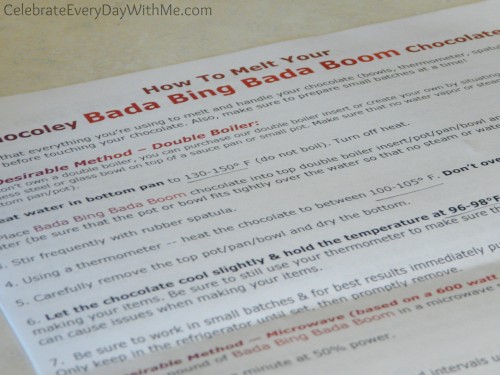 Did you know that a "homemade" double-boiler should not let steam escape?  Ok, you probably did.  But I had no idea!  Check out my new creation below.  It worked perfectly!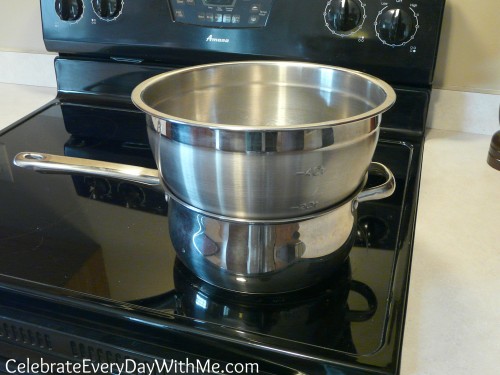 Following Chocoley's easy instructions, I heated my water to 130-150 degrees.  Then I added my chocolate to the top bowl and began heating to 100-105 degrees, stirring frequently.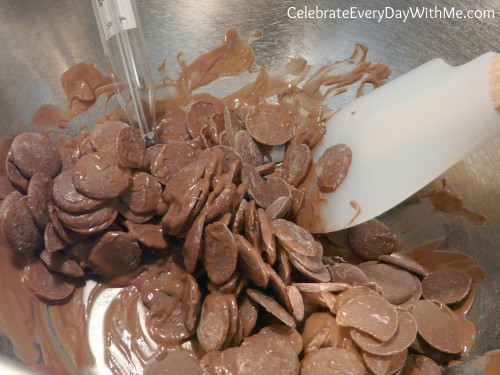 I transferred my chocolate to the "dipping container" (yep, getting all official!) and then waited for the chocolate temperature to lower to 96-98 degrees.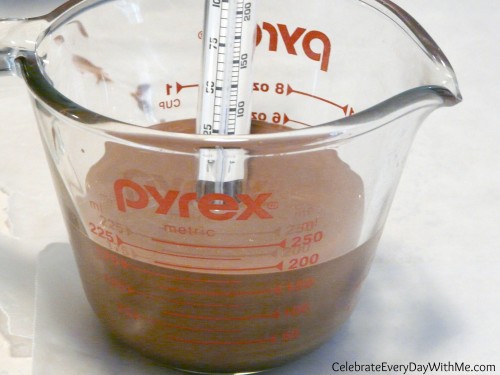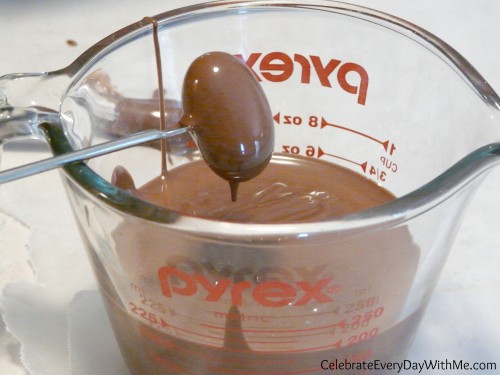 Next, I dipped my grapes in the chocolate, taking care to allow extra chocolate to drip off.  And finally, rolling them in the sanding sugar.
Mmmm!  I did pour a little extra sugar on top of the grapes before the chocolate dried.  I wanted to get an even stronger burst of red.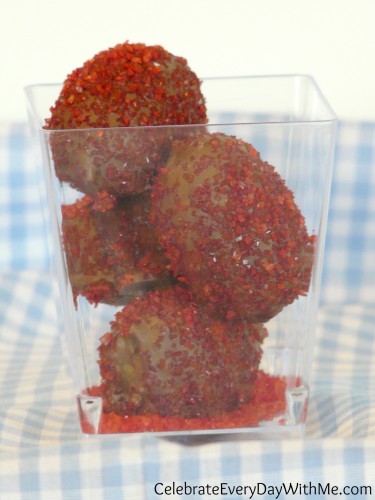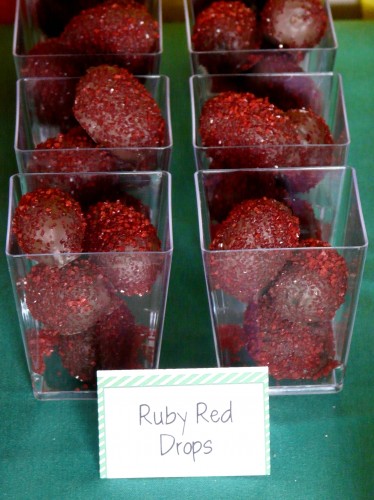 I loved working with the Chocoley products.  The sweet Ruby Red Drops had a great bite with the coating chocolate and sanding sugar.  The coating was so good that my daughter only ate that part and left the grapes on her plate.
Special thanks to Chocoley for providing me with their products!  See more pictures from our Wizard of Oz party, including the "Yellow Brick Road Bars," also made with Chocoley chocolate, color and mold.
What party are you throwing?  This easy treat can be tailored to suit your next party theme by simply changing up the sugar color.
Disclosure:  Chocoley provided me with the products at no cost.  All opinions are my own.  Please see the Disclosure Policy on the About Page for more information.