It was bound to happen.
Last month, when I told my son that Mother's Day was coming up, he asked me when was Children's Day.  A natural question, right?  I told him we would have to look at the calendar and pick a day. Secretly, I had intended to begin celebrating it at some point . . . yes, because my family celebrated it when I was growing up.
Children's Day for my brother and I meant breakfast in the guest room bed (quite the special treat), a cool gift and a fun day.  Now my kids are entirely too young to eat in any bed without having syrup on sheets or milk spilled on the pillow.  That will be a future tradition, unless Dan has something to say about it.
nbsp;
What I love about Children's Day is that is simply a fun day.  There aren't any elaborate parties to plan (even though I love that too!).  There aren't details to tend to.  It is just a fun day, spending time together and doing things the kids love . . . ok, and just one gift each.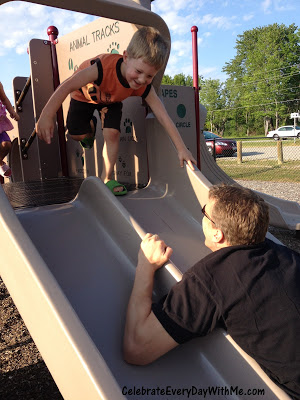 Here is how we celebrated our first Children's Day:
We started the morning with a Scavenger Hunt leading to a gift for each child.  My kids LOVE scavenger hunts and I enjoy seeing them run from room to room, following the clues that will lead to the next note and eventually to their treasure.
Dan made us all pancakes and we had a relaxing morning at home.  After lunch, we headed out for some family putt putt.  It was, surprisingly, the first time my kids had gone miniature golfing.  They dropped their balls near the hole and putted in from there.  Each time Sweet Girl's ball was holed, she threw her arms up in the air, jumped up and declared, "I winned!"  18 times!  (And in case you're interested, Dan beat me . . . by a lot.)
Later, we went to Pizza Hut for dinner which was as much a treat for me as it was for the kids.  Shhh! Then onto a new playground, followed by a trip to Dairy Queen.  The day was laid back, relaxing and fun.  But what I loved most was when Sweet Boy kept on wishing Sweet Girl a "Happy Children's Day."  It was precious.
So now, just like we have a special day to celebrate mothers, fathers and grandparents, Children's Day has made it on to this household's annual calendar.  Another day to celebrate!
Do you have a Children's Day at your house?  What kind of fun things do you do?