If you have been to Build-A-Bear Workshop, you know how fun and enchanting of an experience it can be.  Well, the good news is that it just got better!  This year, Build-A-Bear Workshop  is re-imagining 25 of its stores across the country with "a bold new design that incorporates modern technology."  We had the opportunity to test it out and hands-down, we loved it!  If you are looking to create fun and special memories with your kids, look no further.
Can I take you on a tour?  
We started with picking out our friends as usual.  You'll notice that the bears are made with the same process with added enhancements along the way.  The first new addition is seen below.  The kids started by scanning their bear's barcode (what kid doesn't love to scan something!).
The kids enter their names and other information and then they get to "add" personality attributes to their bear.  By putting their furry friend's heart on the touch screen, the kids slid the characteristics they wanted their friend to have right to the heart.  If you want your friend to be brave and adventurous?  Slide them on over to the heart!
I found the whole process to be very user friendly and well-directed.  You can read the screen for instructions, but there was also a mysterious and friendly voice-over too.  And when I say mysterious, it is because I couldn't figure out where the voice was coming from.  But it was the perfect volume, not disruptive to other guests.
Next stop:  the Hear Me station.  Ah, more fun and very cool!  I still don't know how they do it.  Must be magic!  Once the kids scan their bear's barcode, they can browse through music.  Notice how my son's bear popped up on the screen after he scanned the tag?  He was excited!
There were so many options for sound:  popular music, animal sounds, even the opportunity to record your own voice.  Once the sound was selected, my kids picked up a sound chip (side bins) and set it in the white circle.  The sound was directly transferred and able to be squeezed and tested by the kids.  Ah-Mazing!!
Next, we headed to the Stuff Me station.  The enhancement here is that screen on the side of the stuffing machine.  When the barcode is scanned, the information for the child and bear appears on the screen.  This allows for the staff member to directly engage the child by name and even talk about the characteristics he or she chose for the new friend.  Pretty cool!  My kids were very engaged and quite talkative.
Another fun feature (and really, I think I could have hung out here all day) is the newly designed bath tub.  Previously, the kids scrubbed their friends and dried them off on a plain, solid surface.  Now, it is a virtually designed bath tub with swirling water, duck legs that kick when you move the rubber ducky and suds that build when you swirl the soap.  It was so fun!  Oh wait, this for the kids!!
And of course, next on the tour is wardrobe.  There are so many options for clothes from girly fashion and princesses to sports wear, super heroes and more.  My kids made surprisingly fast decisions (and didn't change their mind like last time).
The last stop is to create birth certificates, enter personal information if desired and take a peak inside the new friend.  It is a nice way to finish off the great experience.
And if you are wondering, Build-A-Bear Workshop still has the adorable boxes that I love so much.  Fun homes for our new friends.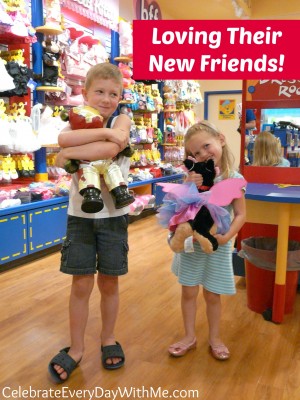 I'd also like to add that I found all the prices very well marked.  If you are going in with a budget, you'll have no problem keeping up with the math.  Even the sound station displayed prices on the screen before they were added to the sound chip.  As a mom, I appreciate that!
I love this store!  Doesn't it look inviting?  If you would like to see more about the newly imagined design, you can take a virtual tour here:  http://bit.ly/QAoJqJ.  Thank you, Build-A-Bear Workshop for a wonderful time!  Special thanks to Amy who made all our arrangements and to Lori, Jenny and Megan from our local store.
* Have you thought of hosting a Build-A-Bear Workshop Party?  Read my review here.
(Disclosure:  This is a sponsored post.  I was provided with the bears at no cost.  All opinions are my own.  For more information, please see my Disclosure Policy.)