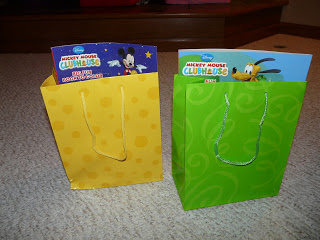 If you read Traveling with Kids (Part Two), you now know that my family sings every time we cross a state border.  Border Bags are the second part of this special (or silly, you may say) tradition.
At every state border we cross, each of our kids received a bag filled with a special activity or toy and also a sweet treat.  It takes a bit of preparation, but the kids looked forward to each bag and it gave them a new distraction with each new state we entered.
At one point, Sweet Boy asked us to sing the song mid-state.  I was thrilled, thinking he loved our tradition as much as I do.  But immediately after the song ended, he asked for his 'prize.'  Oh well.
I usually start
stocking up
for Border Bags by going to dollar stores, garage sales and also shopping the after-holiday sales.  Below is what the kids received on our trip to the beach.
And if you happen to be flying instead of driving, you can still create special bags of activities to be opened at the gate or after take-off.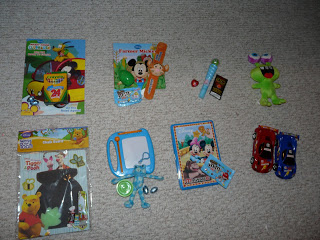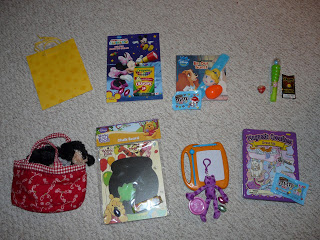 The favorites were:  the Tigger/Cinderella snap bracelets, the chalkboards and the spinning  light-up wands (great for nighttime travel).  As usual, I packed too much, but I wanted some filler options if needed.   Anything that was leftover was restocked for our next trip.
Happy Border Crossings!