This week, we are kicking off a mini-series . . . Back-to-School Prayers.  Whether you are educating children in your home or sending them off to school, as parents, we have certain hopes, dreams, aspirations . . . and fears for our kids.
I want to teach my kids all I can, guide them to make the right decisions and not mess up this parenting thing too badly.  I want to be there every second to correct and direct.  But I can't.
Here's what I know:  I know I worry (and have to keep on reminding myself to roll it back).  I know that God is good.  He is strong and He is mighty.  I know He loves my kids.  I know that prayer works.  And I know when I hand something over to the Lord through prayer, He hears, He moves and His peace is mine.
So here are 12 Back-To-School Prayers for your kids.  Pray them over your children.  Whether you take a couple a day or pray them all at once, let's lift up our kids with these specific requests.
1.  "And Jesus grew in wisdom and stature, and in favor with God and men."  Luke 2:52
Father, help my child to grow like Jesus.  
Help him to love learning, to joyfully and eagerly soak up to knowledge.  May he daily grow in wisdom so he may be able to correctly handle that knowledge and discern right from wrong.
As he grows physically, may he learn to care for the body you have given him and make wise choices for nutrition and health.   Give him a strong and healthy body ready to serve you.  
More than anything, I want my child to be close to you, to know what it means to love and follow you.  Nurture his desire to grow in the things of God, to have a saving and personal relationship with you.  And let him find favor with those he meets.  May his words and actions draw others and not push them away.
2.  "Similarly, encourage the young men to be self-controlled. In everything set them an example by doing what is good. In your teaching show integrity, seriousnessand soundness of speech that cannot be condemned, so that those who oppose you may be ashamed because they have nothing bad to say about us."  Titus 2:6-8
Lord, this world is a hard place.  Surround my child with good examples.  May she look up to more than just her parents, but others who will encourage her in faith, morals, friendship and godly living.  Let her be a strong example among her peers.  Teach her self-control as she goes through her daily living. 
3.  "I can do all things through Him who gives me strength."  Philippians 4:13
Father, I pray that my child would find all his strength in you.  That you would encourage and challenge him to grow and try new things; to stand up to injustice and cruelty, and to have a hopeful spirit for what seems to be impossible with men but possible with you.
4.  "The fear of the Lord is the beginning of knowledge, but fools despise wisdom and instruction."  Proverbs 1:7
Teach my child to fear and respect you.  May she never reject wisdom and instruction from teachers and godly counselors.  Help me to model what it means to to fear you.  Help me to be a godly parent, discliplining and training in love. 
5.  "Rejoice in the Lord always. I will say it again:  Rejoice!  Let your gentleness be evident to all. The Lord is near.  Do not be anxious about anything, but in every situation, by prayer and petition, with thanksgiving, present your requests to God.  And the peace of God, which transcends all understanding, will guard your hearts and your minds in Christ Jesus.  Finally, brothers and sisters, whatever is true, whatever is noble, whatever is right, whatever is pure, whatever is lovely, whatever is admirable—if anything is excellent or praiseworthy—think about such things."  Philippians 4:4-8
As my child is exposed to the world view of our modern culture, guard his heart and mind for what is good and innocent.  Protect him from evil.  Help him to be gentle, loving and focused on the things that are praiseworthy.  Teach him to pray, not just rote prayers before meals, but true prayer that develops out of relationship with you.  May he know the peace that comes when we turn our requests over to you.  Give him a thankful heart, mindful of the blessings that come from your hand. 
6.  "Cast all your anxiety on Him because He cares for you."  1 Peter 5:7
Thank you, Lord, that you care for my child even more than I do.  Help her when she feels anxious, nervous or fearful.  When she faces a situation that takes away her peace, help her to remember to call on You.  Remind her of your love and detailed interest in her life.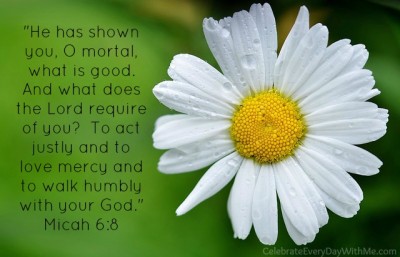 7.  "He has shown you, O mortal, what is good.  And what does the Lord require of you?  To act justly and to love mercy and to walk humbly with your God."  Micah 6:8
Lord, create in my child not only a sense of justice but also a heart of mercy.  May he learn humility in his young days and may he be found, like Enoch, as a person who walks with you. 
8.  "For we are God's handiwork, created in Christ Jesus to do good works, which God prepared in advance for us to do."  Ephesians 2:10
Thank you, Lord, that we are your handiwork.  Thank you for the good works you have prepared for us.  As my child grows, help her to become the person you intend her to be.  Grow her into someone who will bring glory to you in whatever profession she chooses.  Help her to reach her world for Christ and spread your love to those she comes in contact with. 
9.  "My command is this: Love each other as I have loved you. Greater love has no one than this: to lay down one's life for one's friends. "  John 15:12-13
Father, teach my child to love other people no matter how different they may be.  May my child be a giving person, eager to help and bless others.  May he develop a heart to serve and a true love for people.  Give him courage to stand up for friends when needed and to put the needs of others above his own desires.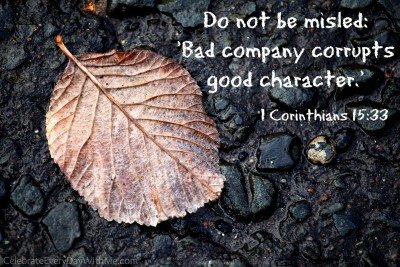 10.  "Do not be misled: 'Bad company corrupts good character.'"  I Corinthians 15:33
Surround my child, oh Lord, with good friends.  Lead her to other children that come from families with similar values.  Protect her from those who would take advantage, be unkind or directly lead her into sin.  Build strong character within her and help her to make wise decisions for the company she keeps. 
11.  "Do not let any unwholesome talk come out of your mouths, but only what is helpful for building others up according to their needs, that it may benefit those who listen.  And do not grieve the Holy Spirit of God, with whom you were sealed for the day of redemption.  Get rid of all bitterness, rage and anger, brawling and slander, along with every form of malice.  Be kind and compassionate to one another, forgiving each other, just as in Christ God forgave you."  Ephesians 4:29-32
Create within my child a heart for encouraging others.  Help him to make wise choices with what he says.  Let kind and wholesome words proceed out of his mouth.  Let him be quick to forgive, remembering the forgiveness he receives from you.
12.  "Have I not commanded you? Be strong and courageous. Do not be afraid; do not be discouraged, for the Lord your God will be with you wherever you go."  Joshua 1:9
This can be an intimidating world.  Father, fill my child with your strength and courage to navigate through the years of childhood.  Whenever he is afraid or discouraged by a situation, bolster him with your Word and your presence.  Help him to know that you always, always go with him.  Allow him to feel the peace of your presence in every challenge he faces.  
Ultimately, Lord, we as parents, desire that all our children encounter would point their hearts to Jesus.  Direct, protect and guide them as the grow.  In the Mighty Name of Jesus, Amen.  
What verses and prayers would you like to add?  
Part 2 of the Series:  Back to School Prayers by the Classroom Subject
Part 3 of the Series:  Back to School Prayers for Mom