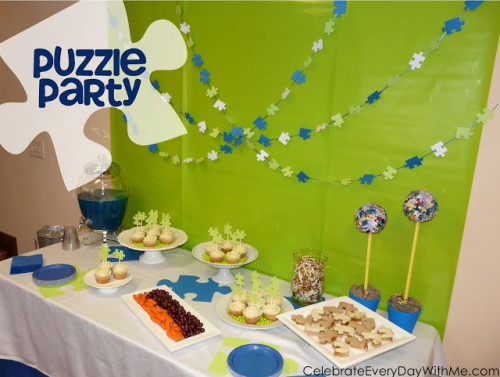 If you've been hanging out with us for any period of time, you probably know that I like to celebrate just about anything.  Last summer, after celebrating
Ice Cream Social Day
, my son (aka the puzzle lover) asked me if there was a day for puzzles.
Well, guess what?  There is.  National Puzzle Day is celebrated on January 29th.  And at the moment, riding in our mini-van, I knew we were destined to celebrate a day for puzzles . . . and make a party out of it.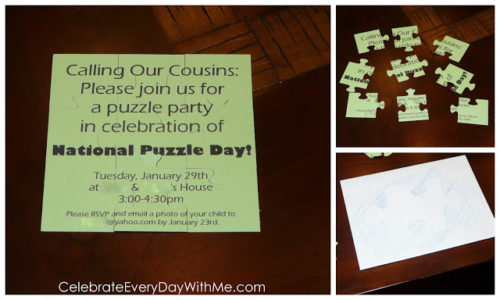 Of course an invitation to a puzzle party must be a puzzle itself.  With my 
Silhouette Cameo
, I made the invitation for the cousins.  The Cameo is an amazing machine.  The possibilities are endless. (
Read why I like the Cameo over the Cricut here
.)  We decided to go with inviting kids 10 and under.  
Because in our family, that meant inviting 23 children. 
I cut a zillion puzzle pieces and led the kids to the basement with them.  The small puzzle pieces were also used in the banners over the tablescape.
In the basement were puzzles everywhere you looked.  This "Create Your Own Puzzle" was one of the most popular stations.  I prepared white card stock with a square on it.  The kids drew pictures, colored or wrote messages within the square and then I took it to my Cameo and cut it into a puzzle.  The children loved this!  One of the girls even wrote a message to her teacher.  So cute!
We own a lot of puzzles as you can see.  I did pick up several at the Dollar Tree too.
I love making
table displays
.  The backdrop is simply wrapping paper.  (I'll be sharing in a few weeks how to make an easy wrapping paper backdrop.)  The menu was simple "after-school" snacks:  peanut butter & jelly sandwiches, carrots, grapes, chocolate drizzled pretzels, sixlets and cupcakes.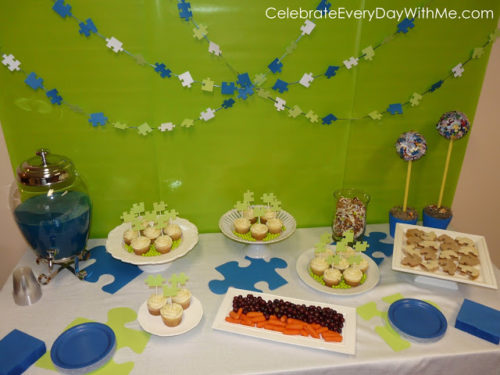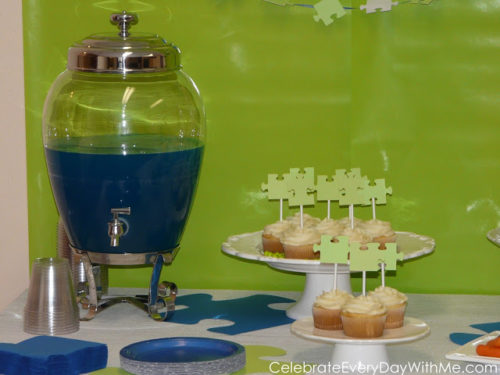 To drink, we served blue Hawaiian Punch to stay in our color scheme.  Our puzzle topiaries were originally used in our Dr. Seuss Party.  I painted the pots blue and glued puzzle pieces to the styrofoam balls.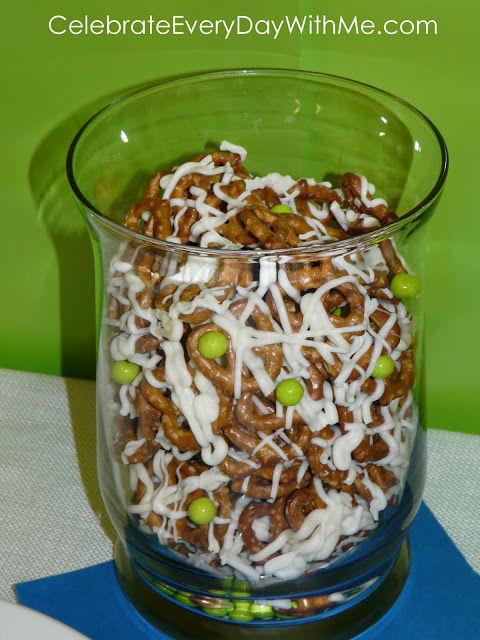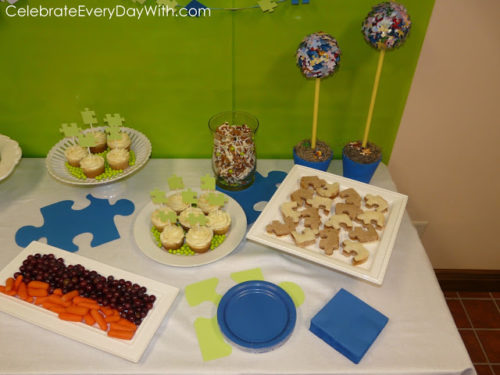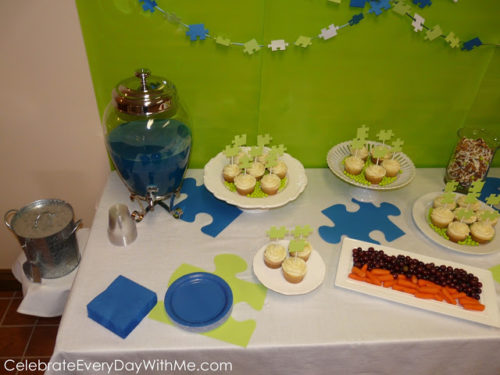 The puzzle sandwiches were made with a 
Puzzle Sandwich Cutter Set
 that I bought off of Amazon.  And I made the ice cubes with an Ikea tray that has been sitting in my cupboard for years.  It was exciting to use something I've had for so long and really never used.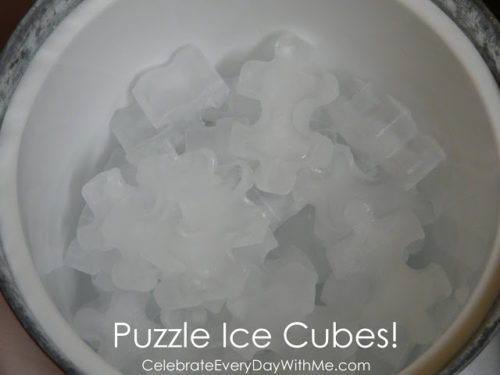 The Favor:  I considered buying this cool Puzzle Maker, but then decided to go a different route.  I made photo popsicle stick puzzles.  (I'll share how I did it next week.)  The white puzzle pieces are magnets with the kids' names on them made with Silhouette Printable Magnet Paper and my cutting machine.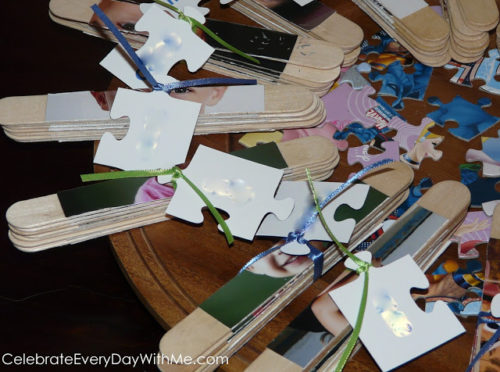 Have you ever created a whole party around nothing?  Share in the comments below.  It is a fun way to thrill your kids.
(Please Note:  This post contains affiliate links.  For more information,
go here
.)