I love snow days.  And I love vacation weeks from school.  No schedule, just (somewhat) lazy days.  We didn't even take a vacation this week for Spring break, but it was still a great week.  Here is a little peek into the last several days.
On Monday, I started Dr. Fuhrman's Eat to Live
 plan.  It is vegan, almost gluten-free and oil-free too.  YIKES!  If you follow me on Twitter, you may have seen my Day 1 breakfast.  (Did I really post a picture of my food??  Yep.)  I'm sure I'll be talking more about Eat to Live in the next couple weeks.  But when you're buying this much produce, this is what your fridge looks like.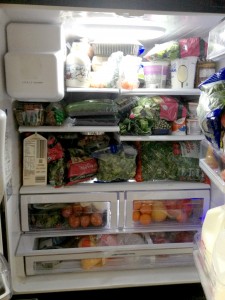 Tuesday, we took a little road trip to see my friend, Tara and her little boy.  Remember the baby born at 24 weeks?  Look at him now!  It was a great visit and encouragement that Spring will arrive soon. . . . Did I tell you that Sweet Girl wears dresses just about every day?  Yep.  This one is my favorites though.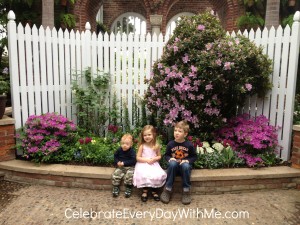 This week, our new oven also arrived.  I'm so thrilled to lose the 1980's look!
The kids played on the deck trying to remove the last frozen reminders of Winter.  I am progressing on my quotes of finding a painter and power-washer for the house, but I will admit feeling a bit overwhelmed by all there is to do.  So, I am thinking we need to have another fun day today . . . after I get a couple things done.  🙂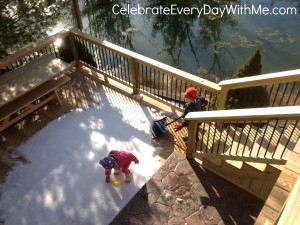 How was your Spring break?