Before Autumn gets away from us, I had to share this great Fall Birthday Party.  It is another party from Sarah at Taylor Studio Design.  Sarah is an interior designer with a great flair for party design.  And this party, well, it is simple and striking, yet fun.
What's to Love About This Party:
* The brown craft paper used for table coverings.  Not only does it fit in with the Fall color scheme, but allows for Sarah's fun and creativity.  (I have used the craft paper as a table runner and love that it is inexpensive and versatile.)
* On the tables, Sarah wrote various trivia questions about the birthday gal and the year she was born.  She mentioned that this helped engage the guests to move around the space.
* Did you happen to notice how some of the leaves have great coloring without the usual browning?  Sarah spray painted them!  (Is that some serious dedication or what?)
* While this party is focused on the adults, she didn't forget the kids.  Sarah had a kids' table and crayons to color right on the table.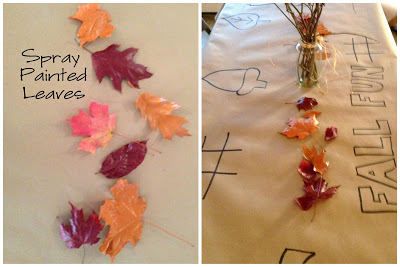 Whether we're talking about a Fall birthday party or your Thanksgiving dinner, these are great ideas to incorporate in your next event.
Would you like to check out Sarah's other parties?  Visit her You Are My Sunshine Party or the collaborative So Sweet Baby Shower.  If you'd like to keep up on her latest tips and ideas, head over and like her Facebook page now.  You'll enjoy all the things she shares.