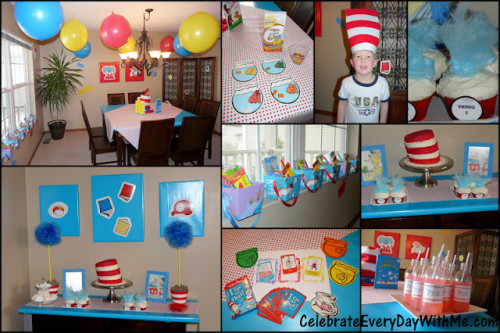 Well finally, we did it!  With the return of health to our household, we hosted the Dr. Seuss party for my son's preschool class.  There was no reason.  It wasn't a birthday.  It was simply an excuse to party.
Last summer while rummaging through Target's dollar aisle, I had found a variety of Dr. Seuss items.  Right then and there, I knew I would have to host a party.  (As a former wedding and event planner, this is dangerous!  I have a lot in storage because someday it will make a great party!)
Today, we'll be talking about the decorations.  Believe it or not, you can do this for relatively little money.  But first, if you missed the rhyming invitation, go check it out here.  I'll wait til you're back.
The Dr. Seuss Party Decorations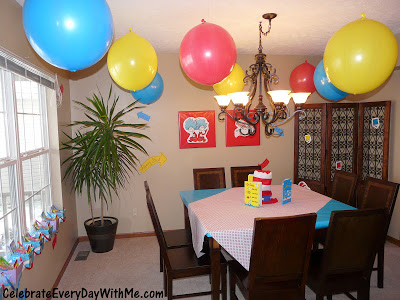 As I mentioned in yesterday's party tip post (you can see it here), wrapping paper is a great tool to transform your room into the party theme.  Whether by print, patter or color, wrapping paper allows you a lot of variety and choices.  I wrapped my dining room table, the buffet and five frames with wrapping paper.  Because I wanted everything red and blue with yellow accents, I chose bright blue for the table, buffet and backdrop frames and then red for the two frames pictured above.
On the dining table and buffet, I placed red polka-dot overlays (40% off flannel from JoAnn's).  I had originally wanted striped fabric, but couldn't easily find it for the price range I wanted.  In the end, the polka-dot fabric will have better longevity for use in future projects.  And because I don't have a sewing machine (and am a bit lazy on this kind of stuff, shhh), I didn't hem the fabric, rather I cut it with pinking shears.  A quick and fun look.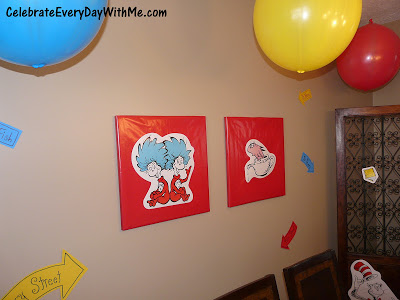 The balloons are punch balloons hung from the ceiling with fishing line and a staple.  Yes, I stapled into the ceiling.  No one will ever know (until now) and a little white out could cover up a hole if it really bothered me.  (Amazon currently sells a 50 pack of punch balloons for $13.77 – 28 cents each.  I also found a three pack at Dollar Tree.)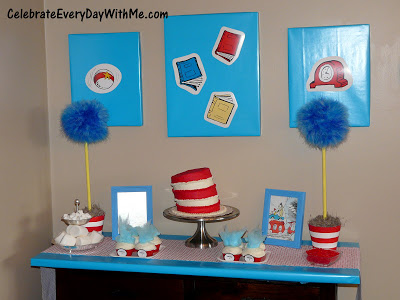 I wanted items of various height for the buffet table.  The topiaries are handmade with $1 pots painted with stripes and multi-shaded blue boas pinned to a styrofoam ball.  The blue frames were, yes, from my storage.  I painted them and framed pages from Green Eggs and Ham
. . . our 2nd copy of the book which was already torn.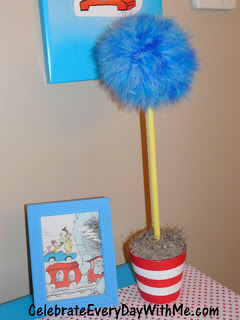 All of the Dr. Seuss's Cat in the Hat Large Bulletin Board Characters
that you see around the room, including on the picture frames are from Amazon.  I got them for FREE because of Swagbucks.  (If you haven't yet earned anything for free on Swagbucks, read the post here.)
I also made arrows around the room inspired by simple phrases from our collection of Dr. Seuss books:  To the Thingamajigger, To Here, To There, Bliss Street, Mullberry Street, Red Fish, Blue Fish, One Fish, Two Fish, Near and Far.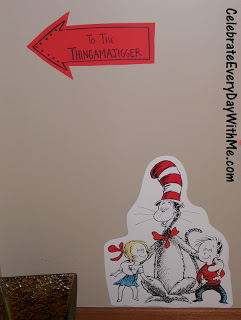 Party decor is one of my favorite parts of party planning especially when done economically.  Coming soon, we'll be talking about the food and activities from the party!
Related Posts:
Setting Your Buffet Table Like a Pro
Dr. Seuss Party Invitation
Dr. Seuss Party Food
Dr. Seuss Party Activities
The Wrapping Paper Secret of Party Decor
(This post contains affiliate links.  Please see the Disclosure Policy on the About Page for more information.)