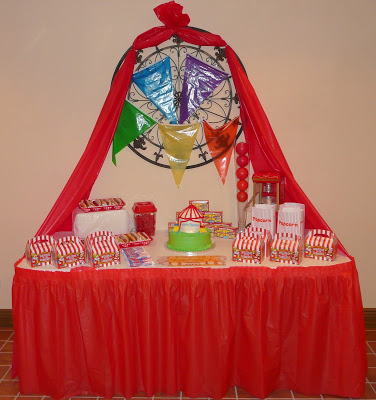 However, once I was committed to the idea and had made some early purchases, I discovered that to do a circus party well, it was going to become bigger than originally thought and a lot more work.  Today, we'll talk about decorations.  Next week, I'll touch on circus party games/activites and the cake.I love birthday party themes!  For Sweet Boy's 4th Birthday Party, I selected a circus theme.  We had just been to the circus, so this was going to be fun (minus the clowns)!
​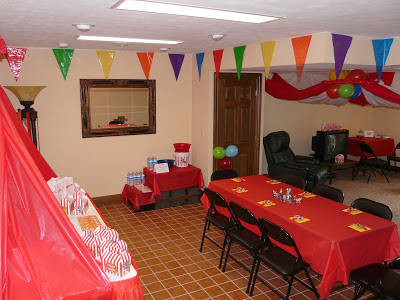 Most of my purchases were made from Oriental Trading Company, Dollar Tree and Walmart.  (On another note, if you are finishing your basement, I can't speak highly enough of the value of doing half tile/half carpet.  Kids' parties are messy!)
 The BIG TOP!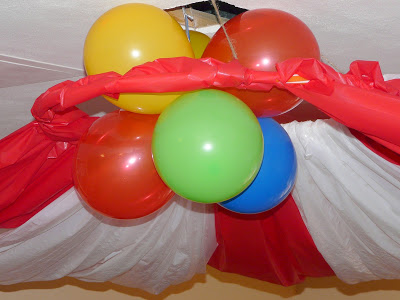 How to Make an Indoor Big Top Circus Tent:
 We removed an access panel in our basement ceiling, put an i-hook in a beam and used twine to hang a hula hoop (4 points).  Then, I strung plastic table cloth from the roll by stapling it around the hula hoop and tucking the other end into the drop ceiling, securing it with packaging tape.  I wrapped the front part of the hula hoop in more plastic and added balloons for a final touch.  (Only half of our basement is drop ceiling, hence the tent only reaches to that part.  I wasn't interested in damaging the other half of the ceiling…after all this is just a kids' birthday party – lol.)  This idea was found on
Birthday Party Ideas
.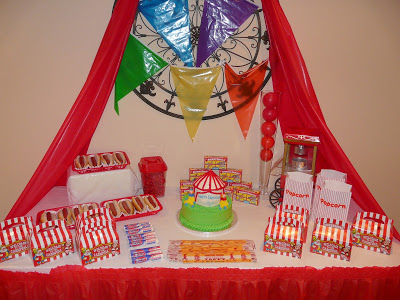 The
Main Party Table
hosted the birthday cake, hot dogs, retro candies,
popcorn bags
and the kids'
circus boxes
partially filled with favors.  They were able to earn more by playing games.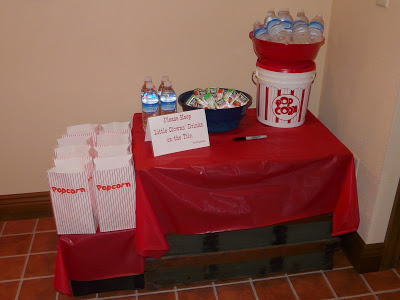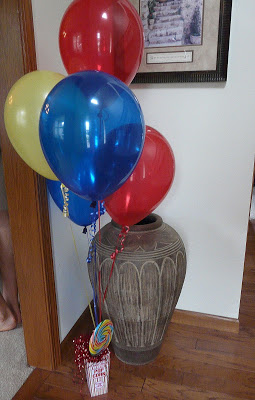 Billowed Streamers heading down to the Circus.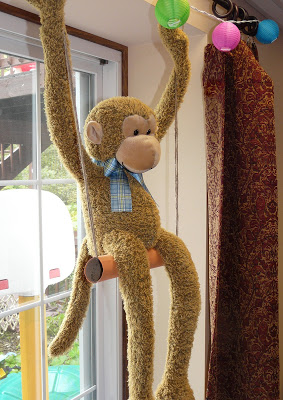 Other decorations:  I hung a clown's costume on a door downstairs as well as used balloons and streamers in other places around the house.  Yes, this party moved from room to room!  But boy, did we have fun!
Related Posts: