Thank you to Castaway Bay for hosting my family in order to facilitate this review.  All opinions are my own. Don't miss the giveaway below! 
Do you make family getaways a priority? . . . I am completely bad at this.  However, each time we make the effort to do so, I am reminded of the great value in getting away as a family.
A couple weeks ago, we spent a night at Castaway Bay, Cedar Point's indoor water park in Sandusky, Ohio.  It was the perfect getaway – a night away from home, lots of family fun and time together.  With its 38,000 square foot water park for all ages and the resort's variety of other fun, we came back feeling refreshed and replenished.
When was the last time you went away for a night or two as a family?  You may not realize it beforehand, but those little trips are so valuable!
Here is why: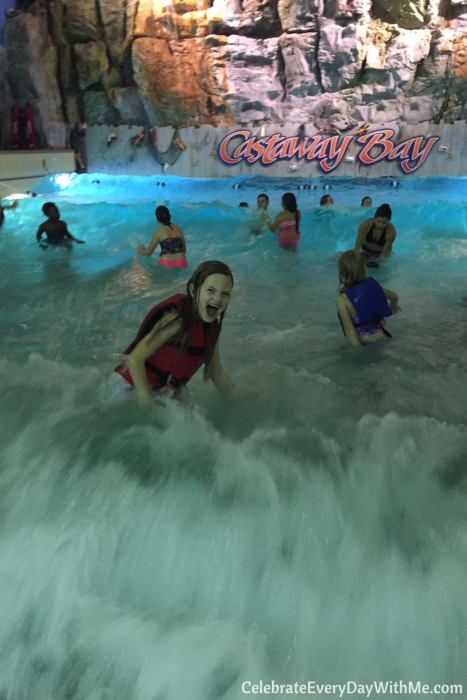 1. Family Getaways are new opportunities for fun & laughter.
I had more fun watching my kids enjoy themselves in the wave pool.  It brought such joy to my heart to see them thrilled with each crashing wave.  Pure fun.  Pure delight.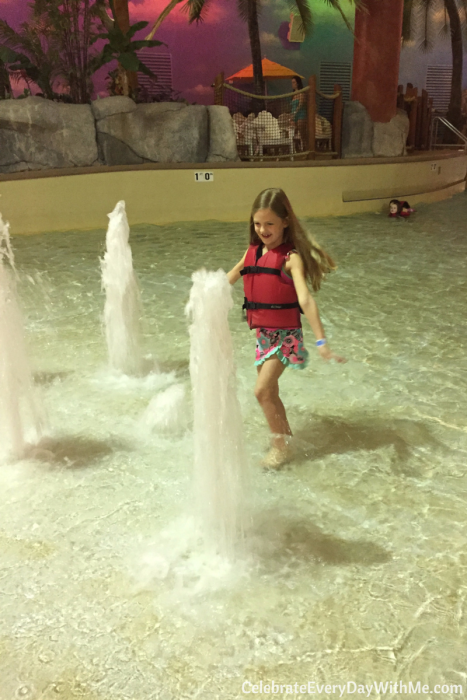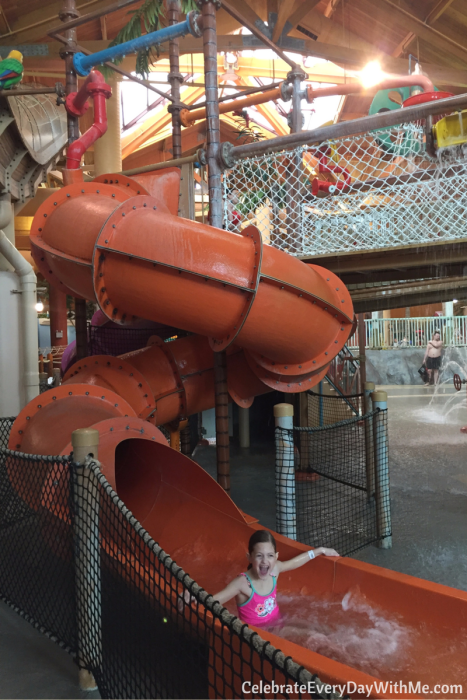 There was so much to explore at Castaway Bay.  I am really impressed with the variety of wet fun available for different ages and abilities.
My kids had fun in the water park but also out of the water park.  They LOVED meeting Snoopy, Linus and Charlie Brown.  (I think we stopped and saw Snoopy four different times!)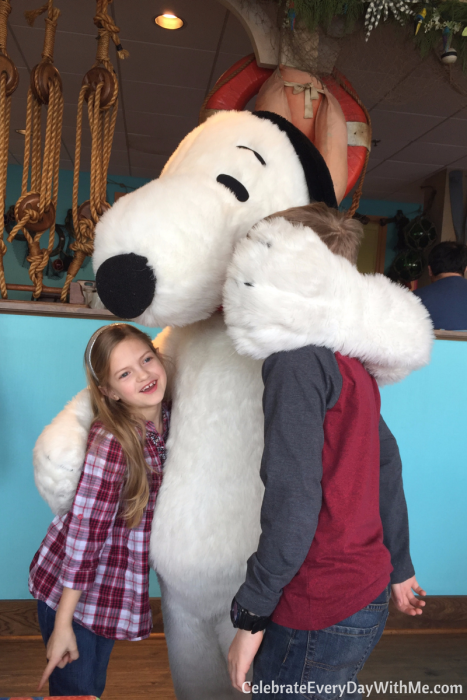 Yep, four.  And apparently, he remembered my son.  😉
2.  Family Getaways are time away from the usual routine.
While I was probably the one who most enjoyed the break from our usual routine, this can be good for the whole family.  We drove up to Castaway Bay after school on a Thursday, had dinner and then hit the water park.  The kids missed school on Friday (not something we typically do).  But it was so nice to do something out of the ordinary.  It was a treat!
And moms, there was no laundry to be started.  No food to cook.  No tasks distracting my mind from just enjoying the time away.  My most relaxing moments at the resort were my times of sitting in a beach chair, watching the kids in the wave pool and browsing through pretty pictures in a magazine.  And if you happen to visit Castaway Bay's water park in the evening, the soft lighting is calming and relaxing.  Plus, lifeguards are on duty all over the entire park and life jackets are available at no cost . . . another reason to relax.
3.  Family Getaways are full of teachable moments.
No matter how magical or fun the family getaway is, let's face it.  There are no perfect kids . . . nor, perfect adults for that matter.  Don't go in with unrealistic expectations, rather with a mindset ready to address those "teachable moments."  When we went to Quaker Steak & Lube for dinner (which is attached to the resort!), our food took quite a while to arrive.  Let's just say it was an opportunity to teach on patience.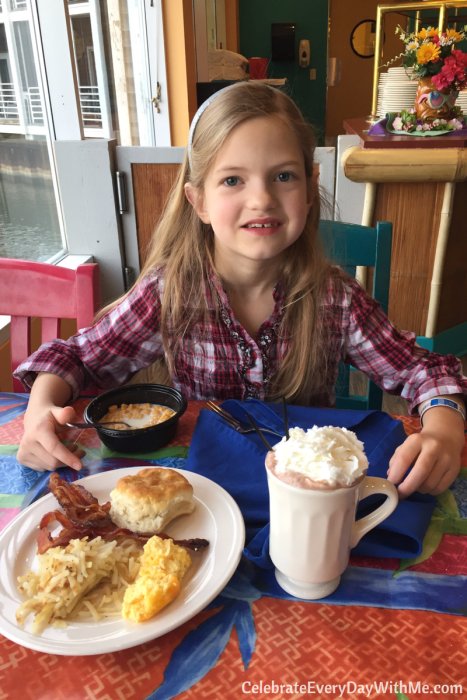 4.  Family Getaways create memories and build family bonding.
Last year when we went to Castaway Bay, we went to Mango Mike's breakfast buffet.  One of the first things my son asked me about this trip was if we were going to that "awesome breakfast buffet."  He had great memories of the food, including Captain Crunch cereal that he doesn't get at home.  Now, maybe food wouldn't stir great memories for your kids but what can I say, he is his father's son.
When you're away, do things that you wouldn't normally do.  These kinds of things will thrill your kids and create fun memories.  Again this year, we let the kids eat ice cream for lunch!  They thought it was the most amazing thing ever and is one of their best memories simply because it was out of the ordinary.  Now, keep in mind that we all ate a huge breakfast and as you can tell in the photo, the portions at Ebb & Eddy's are very generous.  What kid wouldn't love this?!?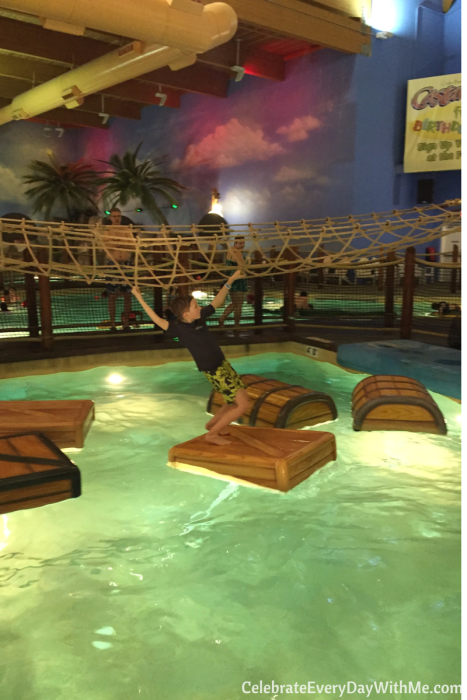 5.  Family Getaways are opportunities for growth.
When you're out of your typical surroundings, encourage your children (and yourself) to try something new.  Is there a new skill to master or an activity to try for the first time?  My son spent a lot of time at the Cargo Crossing.  He fell in once but kept going and successfully crossed many times.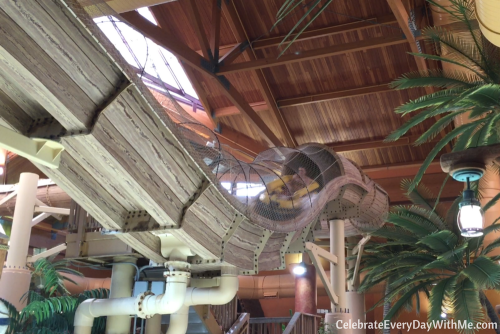 My daughter tried Rendevous Run, a 35-foot high and 520-foot long water roller coaster and LOVED it!  It was something special to do with her daddy, plus an opportunity to be brave.
Don't miss your chance to win four day passes to Castaway Bay.  See below!
Meanwhile, here are some other fun pictures from our family getaway:
The bucket atop the Lookout Family Funhouse drops 100,000 gallons of water every few minutes.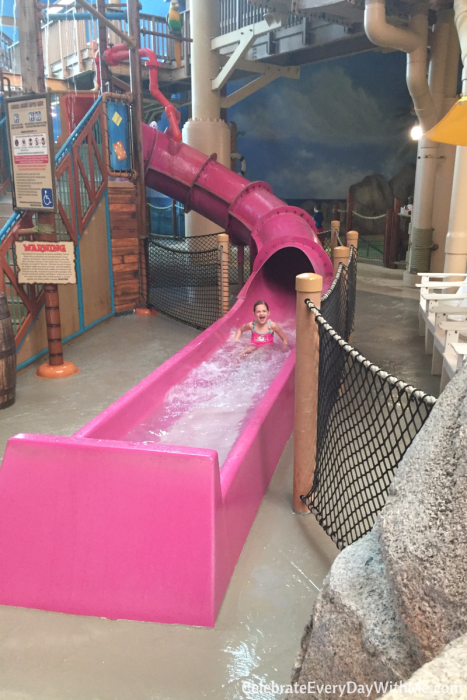 Fun slides for different ages and abilities.
Club Castaway offers a nighttime movie, storytime with Snoopy and fun kids' crafts and activities.  (There is an additional cost if you want to color t-shirts, bags and other products.)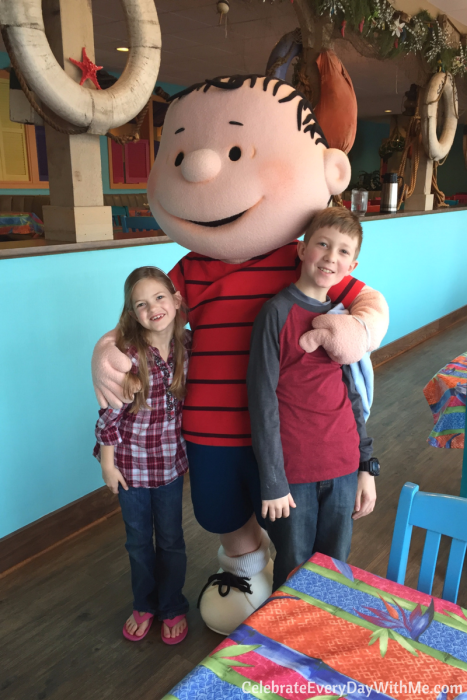 We stayed in a Starfish Room with two queen beds and a single sleeper sofa.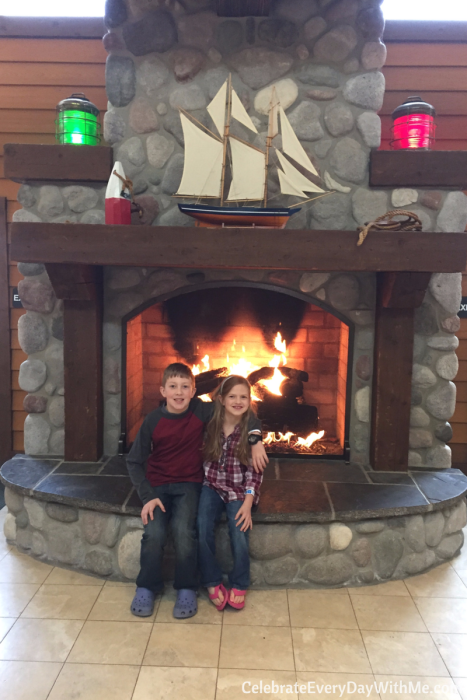 What fun and great memories!  Where will you go for your next family getaway?  Enter the giveaway below and make it Castaway Bay.
You May Also Like:  Discover 9 fun ways you can spend your time at Castaway Bay.
The Giveaway: