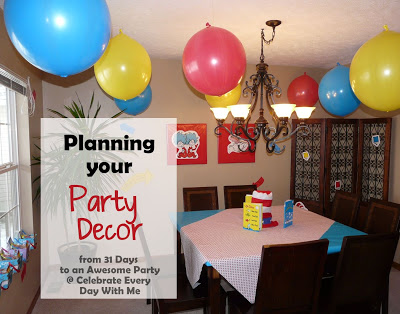 PARTY DECORATIONS . . . this part of party planning either thrills you or it scares you.  For some, you are just itching to get to the creative side of choosing and making your party decorations.  Hours upon hours of crafting.  But for many, you may be dreading this aspect, feeling a lack of creativity and vision.  Wherever you fall, today, we're talking about finding ideas and decorating for your awesome party.  Catch up with our series here.
Your primary source of ideas will be the internet.  There are so many sites, blogs and images of parties online.  You could plan all your decor just by searching the internet.  So let's get started.
When searching and planning your decorations, keep the following in mind:  your venue, theme, colors, budget and time.  As you begin surfing, write down any idea that interests you.  These ideas will be your starting point for all decorations.  You may find an idea online but then alter it to suit your tastes, color scheme or theme.
Here is where I start looking when I'm in search of party decor ideas:
Pinterest – oodles of ideas for any theme.  Type in your party theme or occasion, grab a cup of coffee, notepad, pen and get ready.  Plug in other key words for your party to expand the ideas you may find.  Click over to the page with the pin so that you can explore the rest of the photos.
Kara's Party Ideas – Tons of parties by theme, category or even color.
Catch My Party – Another great site with lots of beautiful parties to peruse.
Birthday Party Ideas – This site isn't going to show you gorgeous pictures, but will give you ideas if you're willing to read.
Oriental Trading Company – I like to check out what OTC is offering for my theme, if anything.  I may find a product I like or an idea that I can recreate.  Be sure to watch for their coupon codes and free shipping offers.
Amazon – I don't usually check Amazon for the decor ideas and brainstorming as much as I do for the products I may be looking for.  I have found Amazon offering the exact same product as OTC, but for less.  Gotta love finding a better price.
General Google Search for my theme.  Who knows, I may strike gold!
After you've searched the web, you can take it even further by thinking about key words for your occasion.  Think about your theme.  What tangents can you run with?  When I was throwing the Dr. Seuss party, I also searched using key words like Cat in the Hat, Thing One & Two, Mr. Brown Can Moo, etc.  Maybe you're throwing an Under the Sea party.  Search Pinterest for party decorations of fish, mermaids, jellyfish, etc.  One little key word may open up a whole avenue of decoration ideas to you.
When something catches your eye, pin it.  Pinterest is invaluable for party planning.  When you see something you like for a party, pin it and refer back to it when you are planning your event.  Whether it is a future theme idea, a cute decoration or even a unique way to present traditional decorations like balloons and streamers, it will make your planning easier.
Come see what I've been pinning!
This post is a part of 31 Days to an Awesome Party.  Go here for the complete list of topics.