A whole park devoted to LEGOS?  Yes, please!
As my son has become more and more interested in LEGOS over the last several years and now my daughter as well, we knew that our next trip to Florida would have to include a visit to LEGOLAND.  And friends, let me tell you, we had so much fun!
We loved the variety of things to do from roller coasters, shows and rides to play areas, shopping, free building and more.  It is a fantastic park and if you have kids who love legos, they will really enjoy spending a day (or two) at the park.
And before I get into my LEGOLAND Florida tips, I have to share about The LEGO Movie 4D, A New Adventure.  The new movie opened three days before our visit.  What great timing, right?  My son is crazy about the LEGO Movie, so he was beyond excited that he would be able to find out what happened to his favorite characters since the first movie.
The New Adventure brings Emmet, Wyldstyle, Benny, UniKitty and Metal Beard to Florida to visit LEGOLAND, but their trip is interrupted by President Business' evil brother, Risky Business.  It is a clever story and of course, the 4D makes it super fun.  I especially liked when the Micro-Managers squirt Kragle (water) at the audience.
One of my favorite parts of the movie was when Emmet and Wyldstyle recruit the audience to help spot certain LEGO pieces.  It became very interactive and completely entertaining to see an entire audience of kids pointing and shouting to help their LEGO friends out.  Don't miss the 12-minute feature!
And now, on to the tips:
1.  Arrive in time for the Opening Ceremony.  If you arrive before opening, you will enjoy seeing Buddy come out to officially open the park.  During the opening, everyone learns how to wave like a LEGO figure and one energetic kid will be chosen to help Buddy flip the switch since he is unable to grasp it properly.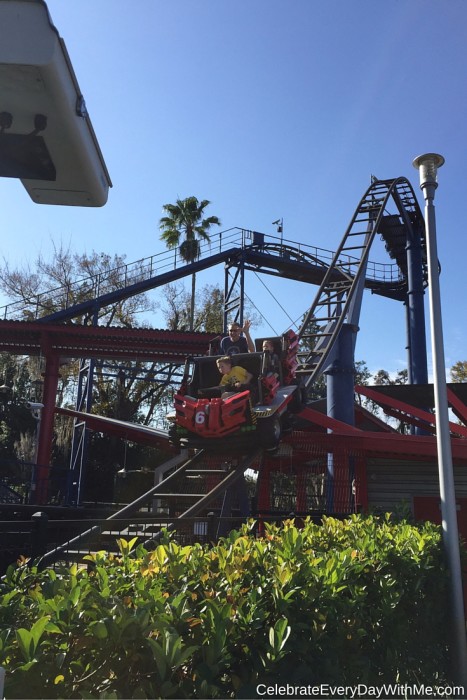 2.  Ride the Roller Coasters First.  While we were waiting for the park to open, an employee gave us this great tip.  She told us to ride the coasters first before the lines get too long.  Now, we were there on an early February Monday and the crowd levels were wonderful.  We didn't wait for anything longer than 15 minutes and most waits were much less.  But for more crowded days, hit the coasters first.
3.  Download and Get Familiar with the Park Map in Advance.  My kids love maps so a couple weeks before we left for our vacation, I printed the LEGOLAND park map (updated to include Ninjago World).  It was very helpful to get a feel for the various lands and a general direction of where things are in the park.
4.  Use the LEGOLAND Florida website to help you plan which attractions your family is most interested.  You can click on the different areas and discover what rides and attractions are in each place.  I made a list of what things were so I could glance and know what we wanted to do in each area.
5.  Check the LEGOLAND park calendar before planning your visit.  At slower times of the year, the park is closed on Tuesdays and Wednesdays.  Not something you want to find out at the gates!
6.  Bring Mini-Figures to Trade.  My kids each brought a couple mini-figures to trade with park employees.  Be sure that your figure has a torso, legs, head and some head accessory (hair, hat, head-gear).
You will need all pieces to trade your figure.  Also, be sure that when your child trades with an employee that he or she gives the same pieces back.  My son was given a bald mini-figure by an employee even though my son's figure originally had hair.  It caused a problem when he wanted to trade that same mini-figure later.  Thankfully, we had a sympathetic employee who made the trade when we explained what happened.
Bonus:  Roaming in the park is an employee with a blue vest.  He carries a ton of mini-figures to trade.  We did not see him, but we did find the big board with trading figures near the LEGO Factory Store.
7.  Don't Miss the 4D Movies.  As I mentioned at the beginning, we really enjoyed The LEGO Movie 4D – A New Adventure.  It was one of my son's favorite things all day.  And I loved it too!  Be sure to catch one of the showings.  Plus, if you get there a bit early, there is some fun LEGO trivia on the big screen.
There are other 4D movies too, but unfortunately, we did not have the opportunity to see them.  There really is a lot to do!
8.  Be Sure to Check out the Character Greetings.  At the front of the park are Show Guides with character greeting times.  Grab it on your way in and take note who your family will want to meet.  My kids were so excited to meet Emmet, Wyldstyle and one of the LEGO Friends.
When we were there, the LEGO Movie characters were scheduled to start (one at a time) just before the 4D movie ended.  If you want to be the most efficient with your day, don't dawdle after the movie.  Get outside and in line to see the character.
9.  Visit Heartlake City.  If you have a daughter who likes the LEGO Friends, you will want to visit Heartlake City.  The Friends are built in LEGOS around the city and we had fun trying to spot each one.  There is also a Meet & Greet location, a fun ride and my daughter's favorite, the Friends to the Rescue show.  See the next tip…
10.  Catch a Show.  Through the day, there are live shows to enjoy.  While my daughter absolutely loved the LEGO Friends show, there is also a water skiing show at Pirate's Cove.  Check the schedule for times.  Not all shows and movies are offered multiple times.  You will need to pick and choose.
Bonus tip for LEGO Friends Show:  S it in the front taped-off rectangle, either right in front near the stage or along the side aisles.  The Friends come down and dance with some of the kids.  We were in the back rectangle and had I known this, I would have made a point to sit towards the front.
11.  Use a Coupon for BOGO on Admission.  You can save quite a bit of money by using a buy one – get one free admission coupon.  Coupons are found in the LEGO Club Magazine and also in some LEGO sets.  Pay attention to the bi-monthly magazine coupons as they are only good for a short time.   (The coupons in the sets seem to be good for a longer time period.)
12.  Enjoy a Stroll through Miniland.  I wasn't expecting anything amazing in this area, but was surprised to see how large and interesting Miniland was.  It really was quite impressive!  We had fun looking at all the different scenes and moving components.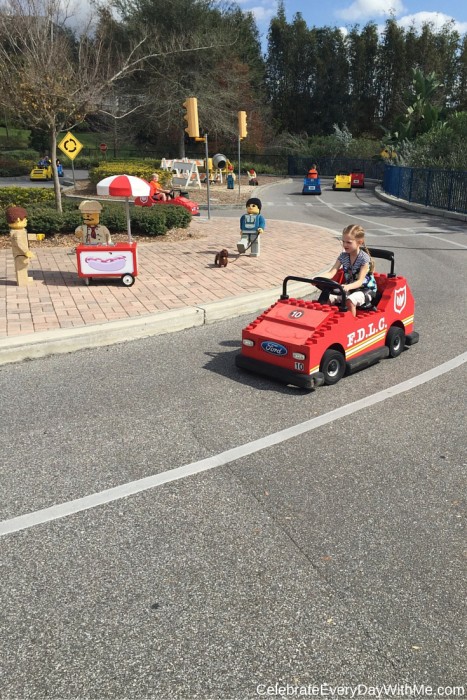 13.  Don't Miss the Ford Driving School.  Yes, your kids will be allowed to drive little cars without you!  My kids thought it was a blast and my daughter did it twice.  We won't talk about the moments when my son blew through a stop sign or my daughter accidentally bumped into another car…or I guess we will.  Get your video running.  This spot is precious!  And for younger kids up to age 5, you can visit Ford Jr. Driving School.
14.  There is No Outside Food Allowed.  Park policy is that no outside food is allowed into the park except for this list of acceptable items.  For our visit, the park was open 10am-5pm.  We only needed to eat one meal in the park, so I didn't find the policy too disruptive to our wallet.  We ate at the pizza buffet per my son's request.  There was a nice variety of pizza, a salad bar, penne pasta and unlimited soda.  Should this policy really bother you, you could always pack a cooler lunch in the car and go back to the parking lot to eat.
I had heard great things about Granny's Apple Fries and wanted to try them, but we were so full from lunch that it didn't happen.  Maybe next time!
15.  If you have younger children, there are a couple Duplo tot spots throughout the park as well as Duplo Valley.  Duplo Valley looked perfect for the youngest of LEGO fans, but what I thought was super family-friendly were the different Duplo areas offered throughout the park.  Your big kids can ride a coaster and your little kids can play.  See the map for locations.
16.  Check out the new LEGOLAND Hotel.  We walked through the lobby after our day at the park and the whole place looked like so much fun!  I initially didn't book there because it seemed pretty pricey.  But in the off season, it is very reasonable!  My cousins are staying there for $108/night (plus taxes).
[Update:  the LEGOLAND Beach Retreat is opening 2017.  I'm sure this new hotel is just as awesome!]
Bonus tip:  When you are a guest at the hotel, you can enter the park half an hour early for Bonus Brick Time!
17.  Kids tired of waiting in line?  Take advantage of LEGO Play Areas at several of the attractions.  Kids can play while the parents wait in the queue.  Thank you, LEGOLAND!
18.  Parking at LEGOLAND is $17 per day or $15 online if you purchase in advance.  I guess it is a given at theme parks, but I just thought you'd like to know in advance.   You can also catch a shuttle bus from a nearby mall for $5 per person with reservations.  However, I think I would rather have my car nearby if there are 3 or more people in the car.
19.  Slow Down to Enjoy all the LEGO creations throughout the park.  It really is fun seeing the variety and sometimes enormous creations in the park.  Snap some pictures!
20.  Build a Mini-Figure.  At the Minifigure Market in Fun Town, you can build a mini-figure for $3.99 each or 3/$9.99.  Keep it or trade it, but you also get a little accessory with it.  My daughter was thrilled to have a little LEGO dog for her new friend.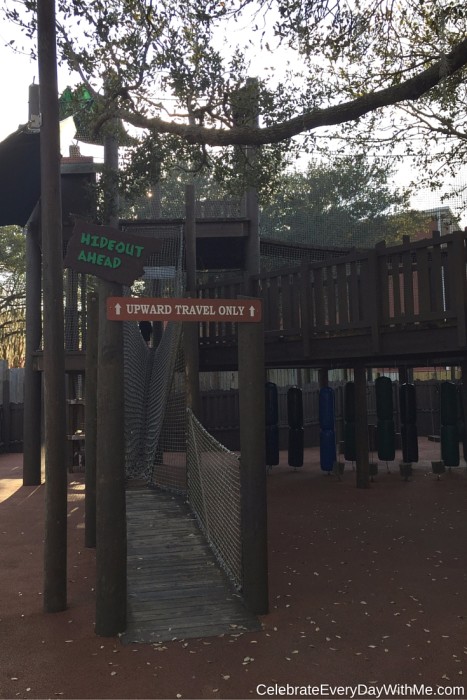 21.  Run and Play at Pharoah's Revenge and The Forestmen's Hideout.  The kids can have fun shooting foam balls and climbing nets at the different play areas.  It is the perfect spot for the parents to sit and rest while the kids play.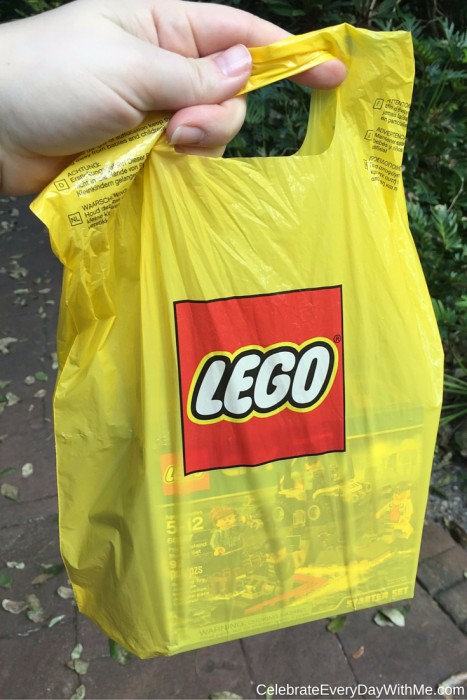 22.  Don't want to carry your packages?  Utilize the Package Pickup system.  When you buy something, you can have it sent to the front of the park so you don't have to carry it all day (like I did).  Just be sure you have at least two hours before you will be leaving, otherwise your item may not be ready when you are.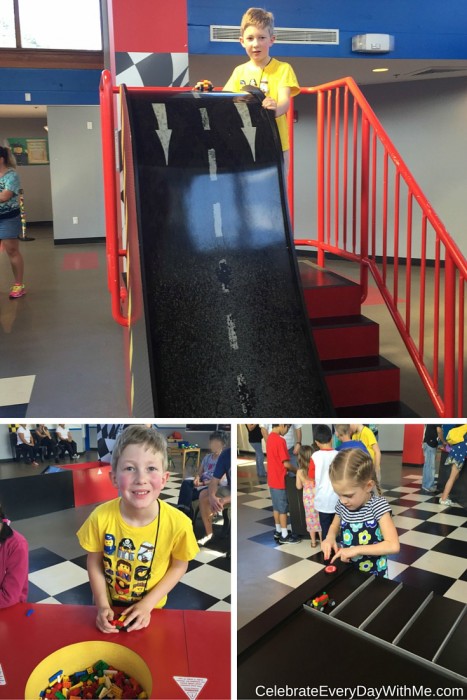 23.  Make a LEGO car with Build & Test.  In the Imagination Zone is an area where you can build a car and then test it on different tracks.  It was a fun area AND indoors if you're trying to avoid the sun for a bit.
24.  Visit Cypress Gardens.  The LEGOLAND park is built on the original site of Cypress Gardens.  However, part of the gardens have been maintained with the addition of several lovely, southern belles made out of LEGOS.  It is a relaxing walk where you can enjoy the grounds and the incredible banyan trees.
25.  Do Quest for Chi at the end of the day.  On this ride in the World of Chima, you ride on a boat (that passes by/through waterfalls) and each person has a water cannon that sprays water when cranked.  On the sidewalks of the ride are more water cannons where passersby can squirt those riding the boat.  My son rode it twice and was completely soaked.  I wish I would have had a change of clothes in the car, but I am so glad we saved this for the end of the day.
However, if you happen to be at the park on a scorching hot day, it may be the perfect ride to help cool your family down.
Can you do it all in one day?  The answer is simply no.  We did quite a bit, but we didn't come close to doing everything.  Several times, Dan and I split and each took a kid to what he or she was most interested in.  This worked well for us.  But if you want to really do everything and you have die-hard LEGO-loving kids, I would suggest two days and a fun overnight in the hotel.
Have you been to LEGOLAND?  What are your tips for readers?  
Disclosure:  I was given two tickets to LEGOLAND Florida to facilitate my post.  All opinions are mine.